CamPAH!

February 19 @ 9:00 am - February 20 @ 4:00 pm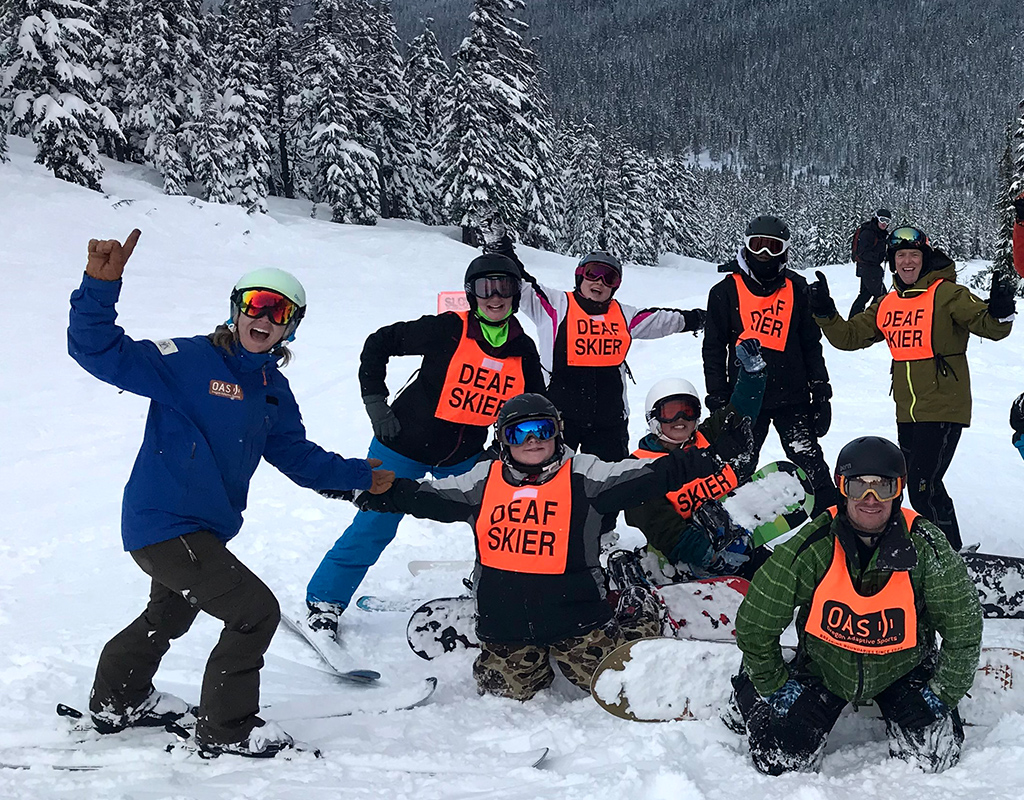 The annual CamPAH! is returning for its 8th year!
Since 2014, OAS has worked in collaboration with a local Deaf trained snowboard and ski instructor, Cara Frank (who is also currently the Team Director for the US Deaflypmics!). By working together, a Deafriendly space was created on the mountain under the OAS' banner.
The program, CamPAH, captures the sign "PAH" in its name, which in American Sign Language means "finally" or "success at last" in a positive and upbeat way. This sign echoes everyone's sentiments about CamPAH, a program that's one of a kind.
 WHAT:
This year's unique mountain experience will include a fusion of sign language, spoken word, storytelling – but most importantly, making turns on the mountain slopes whether it's skiing or snowboarding! This is a great choice for those who are *Deaf and between the ages of 10 – 19 (or currently in high school) eager to learn and improve their skiing or snowboarding skills along with a trained Deaf coach.
Campers meet on the snow for six hours each day (from 9 am to 4 pm) with some of the finest humans you'll ever have the pleasure of meeting. Beginners to advanced riders/skiers regardless of communication mode and ability are welcome!
While skiing and snowboarding isn't really a team sport, the learning process is social. Lessons are done either one-on-one or within a small group which is a great way to create a bond. As the weekend goes, the ski/snowboard ability of each camper will progress. CamPAH offers campers the opportunity to master the basics, build self-awareness, confidence, social skills and it will make one love the mountains if they don't already!
COST:
CamPAH is offered at no cost to participants.
What's Included?
Lift tickets
7 hour supervision on Saturday and Sunday at Hoodoo Ski Area
Snowboard or Ski Rental Equipment as needed
Instructions from a trained coach that compliments camper's communication mode
**Please note: This year's program does NOT include snacks, lunch or drinks. There is food available for purchase from the Hoodoo cafeteria.
 REGISTRATION: 
To register, we need an online registration form for each camper. Space is limited for this event. Once you submit a registration form, the CamPAH Manager will follow up with you within 2-7 days. Registration deadline is Friday, Feb 4th but apply early as we may fill up quickly!
QUESTIONS:
If you have any questions, please email our CamPAH Program Manager, Cara:
Email:  CamPAHinfo@gmail.com
*NOTE: We use the word "Deaf" as an inclusive term for all Deaf, hard of hearing, DeafBlind, DeafDisabled, and late-deafened children.
Details
Start:

February 19 @ 9:00 am

End:

February 20 @ 4:00 pm

Event Categories:
Venue
Hoodoo Ski Area
27400 Big Lake Road
Sisters, OR 97759 United States + Google Map
Organizers
CamPAH Program Manager