Turns and Berms

April 20 - April 23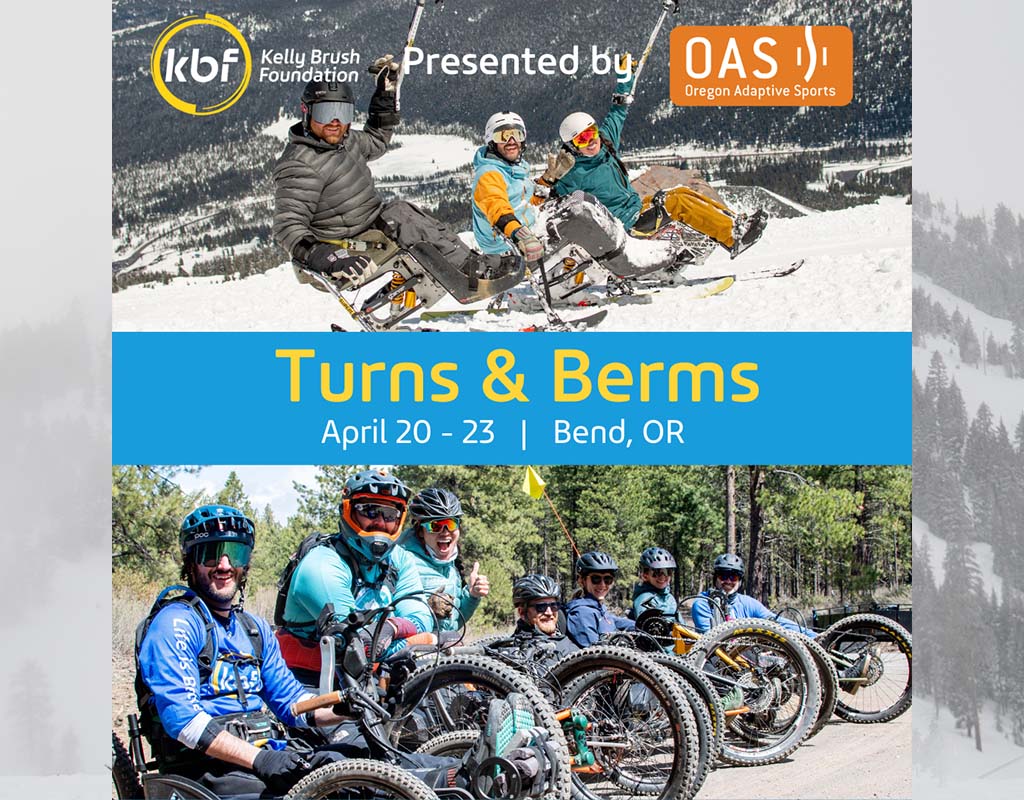 Turns & Berms
The Kelly Brush Foundation and Oregon Adaptive Sports are excited to announce the 2nd annual Turns & Berms camp taking place April 20-23, 2023 in Bend, OR. This opportunity will engage and bring together the SCI community to build camaraderie and gain further independence in adaptive sports. This camp will focus on creating an opportunity for anyone with an SCI to level up their skills or to get to know their own equipment.
Eligibility:
Individuals with paralysis caused by spinal cord injury who reside in the United States. Other conditions are not eligible for this program, including (but not limited to) spina bifida, cerebral palsy, multiple sclerosis, post-polio, Guillain-Barre´ Strohl Syndrome, ALS, all other neuropathies, and all other conditions causing disability.
We welcome individuals who already own adaptive ski equipment and or adaptive mountain bike or those who don't. You will need to be able to provide your own transportation for yourself and your equipment to Bend, OR with up to $400 in travel vouchers included (flight, gas, train, rental car)
When:
Thursday-Sunday, April 20-23, 2023
What and where:
Join the KBF & OAS for three days of skiing and mountain biking in Central Oregon. The camp features 3 days of skiing at Mt. Bachelor in the morning and 3 days of trail riding near Bend. We will recap each day's adventures over dinner.  All experience levels are welcome! 
What's included:
3 night stay at Best Western Premier Peppertree Inn in Bend, with 3 days of breakfast, 3 lunches and 2 dinners. All trail passes and lift tickets will also be included. Please let us know if there is any other equipment you might need outside of your ski rig or off-road handcycle.
In addition, you will also be led, supported and instructed by the amazing group of people involved with OAS and KBF; including staff, volunteers and Board members.
How to apply:
Please fill out this short application. The deadline to apply is Friday, February 24th, 2023. We will notify all applicants of a decision within two weeks of the deadline. If you have any questions, please contact Greg Durso, Program Director at greg@kellybrushfoundation.org or Pat Addabbo Executive Director at pat@oregonadaptivesports.org.
Details
Start:

April 20

End:

April 23

Event Categories: