Board of Directors
The OAS Board of Directors is responsible for overseeing the operations of OAS and assisting the Executive Director and the OAS staff in fulfilling the Mission and Vision of the organization. The Board is responsible for overseeing fundraising activities and ensuring the fiscal health of the organization. The OAS Board of Directors represent a diverse group of leaders from the community and many of our stakeholders. Each year the OAS Board of Directors provides leadership and significant impact on the OAS mission and vision.
Current Board Members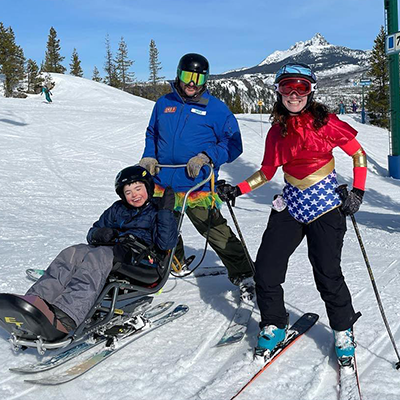 Shanna Brownstein
Shanna grew up outside Philadelphia and went to Colby College in Maine, where she studied some but skied a lot.  Following graduate school at Columbia University in New York, she moved to Portland, OR with her husband and has been there ever since.  Her professional background is in energy and climate change, and she currently works at Tesla.
OAS allows her to ski with her son, Wynn: every day she skis with Wynn is the best day ever.  Shanna is super excited to help the organization make the outdoors accessible to everyone.
She is a certified whitewater rafting guide and enjoys hiking and skiing, eating good food, and hanging with her husband and sons.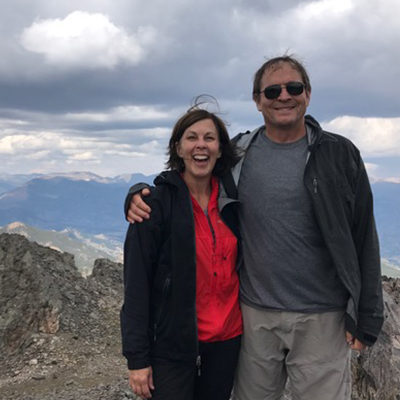 Traci Clautice-Engle
Traci grew up in Lake Oswego, Or and graduated from Oregon State University before entering Medical School in Denver, Colorado. She studied Radiology at UCSD in San Diego before traveling to Christchurch New Zealand with her husband, son and daughter working at Christchurch Public Hospital and having an unforgettable year practicing Radiology and traveling the South and North Island with friends and family. After returning, she completed fellowship training at Stanford, CA before moving to Bend in 1998. She has been at CORA since 1998, active as a Radiologist, Medical Director on Saint Charles Radiology Department before becoming long time President of CORA from 2003-2019. Traci loves the outdoors and particularly hiking, skiing and biking with her husband Allen Engle and traveling with her husband and family in the USA and internationally. She is also passionate about training Tae Kwon Do style kickboxing. As Traci looks forward to retirement in the next few years she is thrilled with the prospect of becoming a part of OAS and giving back to the community that she and her family love, having free time to enjoy the outdoor activities that she and Allen love to do, travel, and finding time to spend with her children, daughter-in-law, and grandchildren.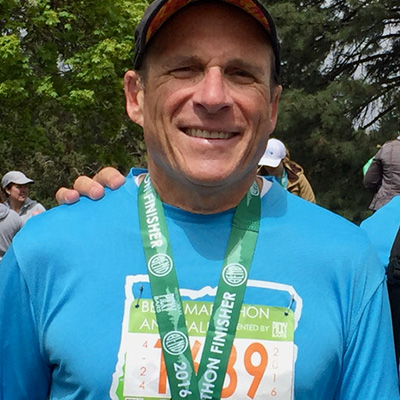 Bruce Creager
I am honored and excited to serve on the OAS Board of Directors, and motivated to give back to OAS after being a participant for 5 years. As a blind athlete, it has truly been a life-changing experience for me, learning adaptive techniques to continue to hike, cycle, and Nordic ski; I also learned to rock climb, where I had no fear of heights when climbing a 40 foot wall. I am hoping to bring to my Board position my love of outdoor recreation and my life skills developed during my youth as an Eagle Scout, and my 35-year planning career, including 15 years as Planning Director with Barghausen Consulting engineers. My husband and I relocated to Bend for its outdoor recreation, climate, and friendly lifestyle. What I found in Bend, and reflected in the entire OAS community, is a culture where the support and enthusiasm for recreation-for-all is inspiring. Our city and region have changed significantly in the past two decades, and will continue to grow. It is important that OAS is prepared to respond to these changes. I have pledged to promote OAS so future participants can, like me, personally attest to OAS achieving it's mission to provide life-changing outdoor recreational experiences to individuals with disabilities. Let's all work together to break down barriers to access to the outdoors and to release the unlimited potential of disabled athletes in our community.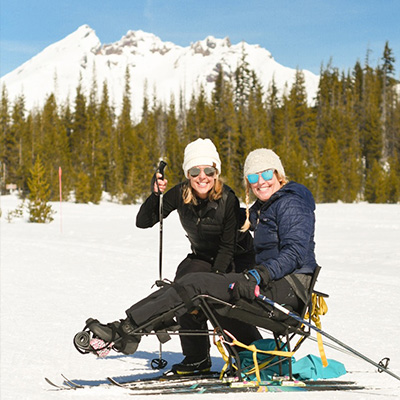 Colleen Dougherty
Founder
Colleen has been involved with Oregon Adaptive Sports since its inception and has been an active board member since 2003. Her love for the organization and the people OAS serves is shown by her continued years of involvement and dedication to the growth and success of OAS. Colleen's current focus with OAS is finance, marketing, special events and fundraising. Colleen is a native Oregonian, growing up in Portland and moving to Bend full time in 2003. She also serves on the Abilitree board as well as BendFilm's advisory committee. She designs and develops custom accessible homes and enjoys spending time with her family and friends and stays active with swimming, biking and skiing. Colleen also competed in the 1996 Paralympic games in Atlanta in swimming. Colleen believes that OAS truly changes people's lives and she, as a participant as well as a board member and volunteer, sees it happen all the time; what myself as well as others have been able to gain in terms of community, confidence, health, independence and a found or refound love of the outdoors is truly immeasurable.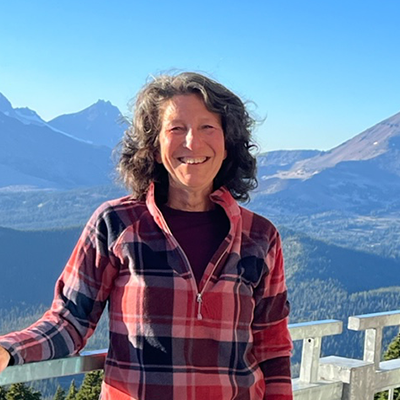 Jennifer Eichhorn
I am a retired attorney who worked at the U.S. Department of Justice for 30 years. I worked primarily on civil rights issues, including advocating for the rights of individuals with disabilities in school settings. My husband Bryan and I first visited Bend in 2007 and we fell in love with the area. We dreamed of retiring here to enjoy the outdoors and Bend lifestyle, and put that dream into action in 2018. I explored various volunteer opportunities in Bend and OAS is the answer for me. I am inspired by the athletes and appreciate the positive attitude and camaraderie among staff, volunteers, and athletes. I look forward to being a Board member and contributing more to the OAS community.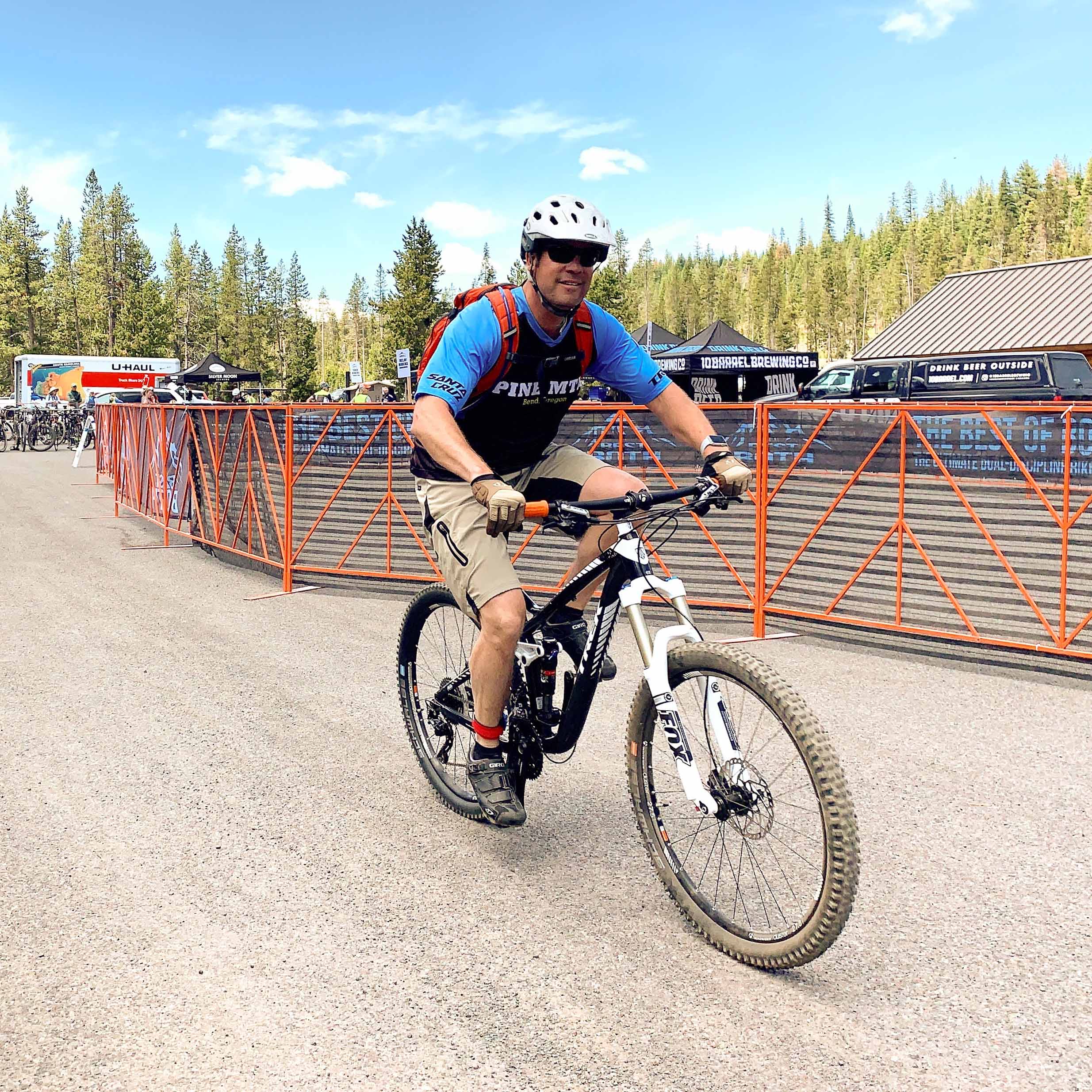 Jason Epple
Vice President
Born an Oregonian, grew up in the Willamette Valley and graduated from Oregon State in 1993. Moved to Bend in 1998 with my wife Trisha where we now are raising our four children. I am a partner of Century Insurance Group, a Bend based insurance agency. For me one of the greatest things is spending time with my family on the mountain. I believe everyone should have the opportunity to experience snow sports which is primarily why I am drawn to Oregon Adaptive Sports.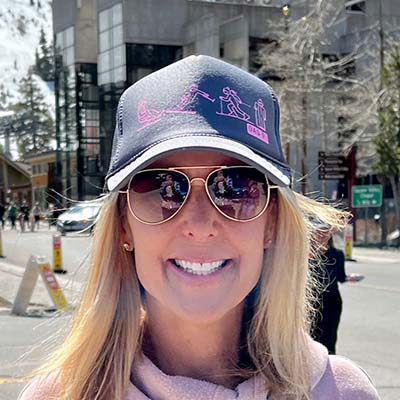 Margaret Immink
Secretary
Margaret grew up in Portland and learned to ski on weekends with her family at Timberline and Meadows. She graduated from Santa Clara University and has a 30+ year career as a Partner with PwC Consulting and IBM, and then as the Founder of DirectorySpot. She worked in San Francisco and London before moving to Chicago where she raised her two children. She has been visiting Bend since the early 90's when her parents retired here. She is very passionate about the OAS mission and has been a fan since the beginning watching how OAS and adaptive sports have been life changing for her sister. She recently moved to Bend and has enjoyed volunteering on the mountain this past year seeing first-hand how much joy OAS brings to the athletes. She enjoys travelling as well as skiing, tennis, hiking, and recently pickleball. Margaret has served on non-profit boards in the past and is looking forward to contributing to the OAS Board.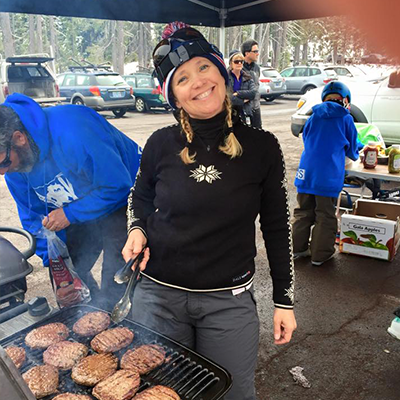 Heather Huston Johnson
Heather is a 4th generation Oregonian who grew up in Portland. After graduating from University of Oregon with an accounting degree and working for Deloitte & Touche, Heather realized her heart was in Central Oregon and moved to Bend in 1997. Heather is the owner and CEO of Oregon Media, publisher of lifestyle magazines including Bend Magazine and Bend Home + Design, numerous visitor guides and University of Oregon's magazine, Oregon Quarterly.
Heather has been involved with OAS in various capacities over the years with a current focus on helping OAS with special events and in relation to the tourism sector, as she also serves on the board for the Oregon Destination Association. She was first introduced to OAS by her good friend, Kendall Cook. Kendall helped Heather and her family share one last day of skiing with Heather's mom, Bonnie, who died of Cerebellar Ataxia in 2014. That magic day brought so much joy to Bonnie, Heather, and their whole family, and they are forever grateful to OAS. Heather is an avid skier who loves being in the outdoors with her husband, Ross, and their children Hannah and Fletcher.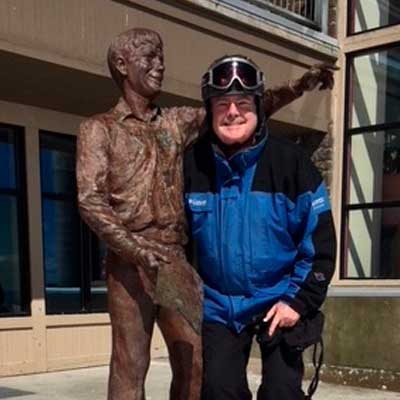 Randy Norris
Vice President
Randy is a graduate of the University of Oregon school of Urban Planning. Randy also attended the U of O Graduate program at University of Utrecht, Holland, working on alternative housing uses for the 1972 Munich Olympic village. Randy spent 38 years in International Business, working in over 70 countries, including living in Singapore for 2+ years. During this time Randy was a founder of an "in-house" non-profit called Warn Employee Community Impact Project, focused on Women and children health programs in Clackamas County Oregon. WECIP is now over 25 years old and currently grants over $60,000 annually to 5 worthy organizations. All funding comes from employees and is managed by employees.
Randy is a past Board Member of Multnomah Athletic Foundation, the philanthropic arm of the Multnomah Athletic Club-Portland. In his final 3 years serving as Vice Chair and culminating as Chairman/President. MAF built its endowment to $2.6 million and currently grants over $250,000 annually, split between Scholar-Athlete scholarships and grants for organizations involved with developing academic and sports programs to the underserved Portland Metropolitan area.
Randy and his wife Lynn have lived in Deschutes county fulltime for 9 years. 2021 marks Randy's fourth year with OAS and he is passionate about the athletes, volunteers, instructors, staff and my fellow Board partners. "They all give me the Stoke!!"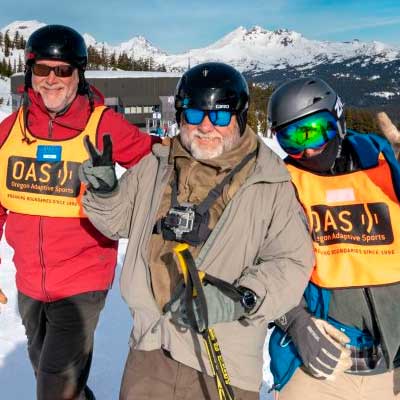 Larry Peck
Treasurer
Larry Peck (pictured left) came to Bend from Arizona, after many years in the last frontier of Alaska. Volunteering on skis for over 5 years, Larry recently joined the Board bringing with him his 30+ years of expertise in finance and business management. Larry helps track every dollar donated and spent at OAS ensuring our funds have maximum value and impact.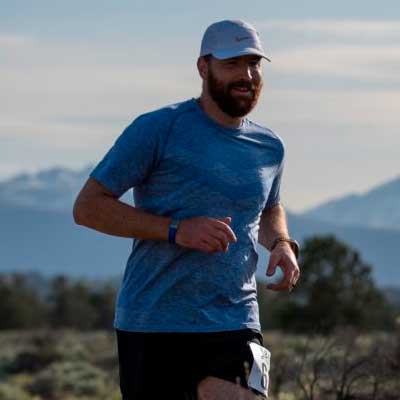 Todd Prior
Todd is a recent Bend transplant from Portland, OR and a Mortgage Operations Admin at First Interstate Bank. Todd practices what we preach at OAS through year-round gettin' after it in the outdoors of Central Oregon and spreading the OAS mission through his never-ending stoke and enthusiasm.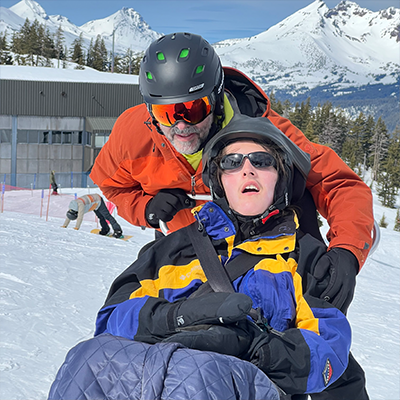 Jeff Richardson
Jeff is originally from Vermont where working and playing outdoors was a way of life. He attended college in Colorado, graduated with a degree in computer engineering and started his career in Silicon Valley. While in CA he spent most weekends skiing, mt biking, climbing, or windsurfing but eventually grew frustrated with the density and moved to Oregon. Jeff's career in technology has spanned over 3 decades with numerous executive roles and although he retired in 2014 from full time work, he remains active on four corporate boards and is the chair of Lattice Semiconductor. In 2020 Jeff's youngest son, Bryan, suffered a serious brain bleed that changed everything. Bryan has shared Jeff's passion for the outdoors and despite his disabilities has been able to experience skiing, biking, and kayaking with the amazing help from OAS. Jeff and his wife have dedicated themselves to helping others and in 2020 they created the "Going Home Fund" at Craig Hospital to assist families with brain and spinal cord injuries get back into their homes after long hospital stays. Seeing his own son's excitement getting back outdoors has fueled his desire to help OAS bring that experience to as many people as possible.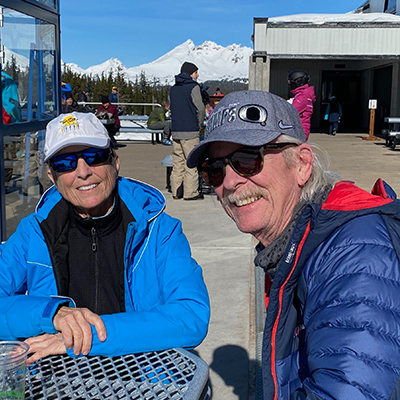 Scott Taylor
Vice President
Scott is a 4th generation Oregonian, born and raised in Medford, where he learned to ski at the old Mt Shasta, skied there, Tomahawk ski bowl, Mt Bachelor and Mt Ashland where he was one of the early ski instructors. He met his future wife, Lynne, there as well. Scott attended University of Oregon, graduated from Southern Oregon University in Political Science, and is a Navy Vietnam veteran. He was a real estate broker in Medford, before becoming the Oregon real estate commissioner. He retired from that position, but occasionally continues to consult brokers and attorneys in real estate practice and license law litigation matters.
Scott and Lynne moved to Bend in 2013. Scott suffered a hemispherical spinal cord injury in 1988 and learned to ski again at the Breckenridge Outdoor Education Center. He became aware of OAS upon moving here and began volunteering in the cycling program. He also uses the outstanding ski program to help him adapt his skiing to his disability.
Scott and Lynne enjoy skiing at Mt Bachelor, and kayaking our Cascade lakes. He cycles on his recumbent trikes. He also enjoys flyfishing for steelhead on the Deschutes river.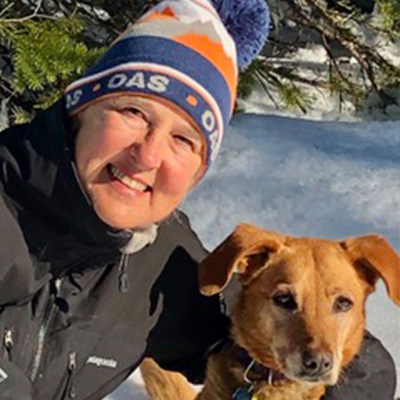 Bunny Thompson
I have been involved with OAS for over 15 years and can't imagine any other organization or volunteer work as personally satisfying as OAS. As an engineer, I worked with NASA at the Johnson Space Center in Houston helping to design the original Space Station as an ExtraVehicular Activity (EVA) specialist and working with astronauts. My husband, Mark, and I left Houston and traveled for seven years and over 40,000 miles on our sailboat before moving to Central Oregon. I love the mountains, snow sports, hiking, canoeing and exploring all of Oregon's wild spaces.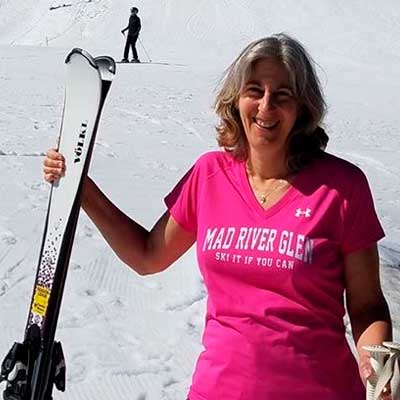 Gail Wilson Webber
President
Gail retired from Citigroup Inc. in 2016 where she worked as an attorney specializing in corporate governance and policy management. Gail and her husband Jim moved from New York to Bend in 2016, looking for a change in scenery and lifestyle. Gail currently volunteers on the hill with OAS. She also has done some volunteering over the summer with OAS biking and yoga programs. Her interest in adaptive sports was sparked by the success of a friend's daughter who skis with the Adaptive Sports Foundation at Windham Mountain in upstate New York.
Gail and Jim enjoy skiing, kayaking, biking, hiking, fly-fishing and falconry. Gail is extremely grateful for the warm welcome and inspiration they have received from the OAS community.