Your support makes the difference.
Oregon Adaptive Sports is working to remove the barriers to the outdoors for individuals with disabilities.
Approximately 1 in 5 Americans live with a disability and face numerous barriers to the outdoors. Adaptive sports equipment is prohibitively expensive for most, accessible transportation does not reach trailheads or open spaces, hours of training are required to facilitate safe and effective programs, and individuals with disabilities are vastly underrepresented in the decision making processes in the outdoor industry.
Your charitable gift helps OAS dismantle these barriers.
Throughout 2020, OAS continued to directly serve individuals throughout a global pandemic, while also pivoting to creating invaluable online resources.  OAS is now entering its 25th year of adaptive skiing programs at Hoodoo and Mt Bachelor.  We invite you to invest in our work and help create and sustain access to the outdoors for individuals with disabilities.
---
WAYS TO GIVE
Instant and Secure Online Donations
Make your tax-deductible online donation through this link! You may also mail a check made out to "OAS" to 63025 OB Riley Rd., Suite 12, Bend, OR 97703.
---
Gifts of Stock & Donor Advised Funds
Donating stocks to OAS is easy.  When you make a donation to OAS through stocks, you receive gift credit and an immediate income tax deduction for the fair market value of the securities on the date of transfer, no matter what you originally paid for them. You pay no capital gains tax on the securities you donate.
Gifts of stock to OAS are handled by Devin Harrigan at Ascent Capital Management, devin@ascentcap.com, 541-382-4847. You or your broker can contact Devin directly to process the transaction.
You may also select OAS as a beneficiary of your Donor Advised Fund!  Please look OAS up via the tax-id 26-0076749.  Our corporate and legal name may appear as "Disabled Sports USA" but donations to the correct tax ID will still 100% benefit OAS.  We are listed with most major brokerages.
Please consult your broker or accountant for guidance with maximizing your tax-savings through a gift of stock.  This information is not intended to serve as tax or legal advice.  Please contact Executive Director, Pat Addabbo, at pat@oregonadaptivesports.org, with any questions.
---
Giving Incentive from the Coronavirus Aid, Relief, and Economic Security Act (CARES Act)
New deduction for donors in 2020! Charitable Giving Incentive: Includes an above-the-line deduction (universal or non-itemizer deduction that applies to all taxpayers) for total charitable contributions of up to $300. The incentive applies to contributions made in 2020 and would be claimed on tax forms next year. Section 2204. The bill also lifts the existing cap on annual contributions for those who itemize, raising it from 60 percent of adjusted gross income to 100 percent.
---
Memorial and Honorary Tribute
Make a donation in memory or honor of a loved one. When you make a gift to Oregon Adaptive Sports, please indicate the person you are honoring and whom to notify of your generous gift and lasting tribute.
Ellie Bartlett Memorial Fund – The Ellie Bartlett Memorial Fund helps to cover the cost of OAS' annual Junior Racers free ski day for youth with disabilities and any U of O students with disabilities at Hoodoo Ski Resort.
---
Sponsorship
OAS organizes several events which rely on sponsors for funding. Sponsor benefits vary depending on the sponsorship level and type of sponsorship but generally include acknowledgment on the OAS website, Facebook page, newsletters, printed materials and at events. Sponsorship opportunities are available for the following events:
Ski For All – OAS' annual ski-a-thon at Mt Bachelor and major winter fundraiser
First Chair – OAS' major fall fundraiser
Heroes – Programs for Disabled Veterans
Pole, Pedal, Paddle – OAS supports over 40 adaptive athletes each year in Bend's iconic multi-sport relay.
Ski For Life – OAS year-round youth programming.
Equipment – Help fund OAS' adaptive sports equipment fleet!
For more information on sponsorship, please call Pat Addabbo at 541-306-4774 x4 or email pat@oregonadaptivesports.org.
---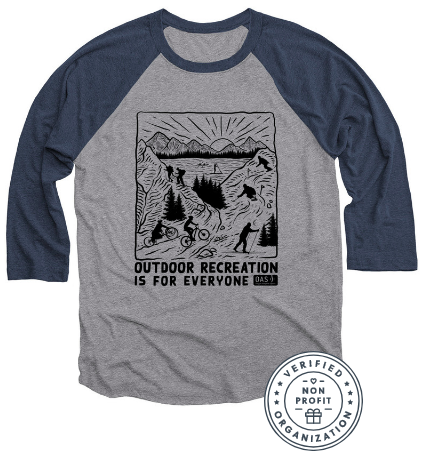 Community Giving
Shirts for OAS
Buy a shirt from Bonfire with a custom OAS design and all the profits go to OAS. Variety of sizes, styles and colors available (see shirt design right). Click here to purchase.
Fred Meyer
You can support OAS by shopping at Fred Meyer with your Rewards Card. All you have to do is link your Rewards Card and scan it every time you shop at Fred Meyer. There is no cost to you, and you'll continue to accrue Rewards Points as usual.
Fundraising by the Barrel Wine Club
This isn't your average wine club. The local bar gurus and all around amazing people at Twist Cocktail Catering Co created this wine club to highlight their favorite wines and give back to the community during this crisis. 50% of the proceeds for the entire length of membership can go to OAS! JOIN THE WINE CLUB
Gear Fix
Before you toss it, consider giving your outdoor goods a second life while helping OAS! You can directly donate your goods to the local used outdoor gear shop, Gear Fix under Oregon Adaptive Sport's name. All proceeds from your goods will go directly to OAS. Starting April to October, Gear Fix will be looking for summer items.
AmazonSmile
Shop and Amazon will donate 0.5% of the price of your eligible AmazonSmile purchases to OAS whenever you shop on AmazonSmile. Use this link in all your AmazonSmile shopping and support OAS.