Cycling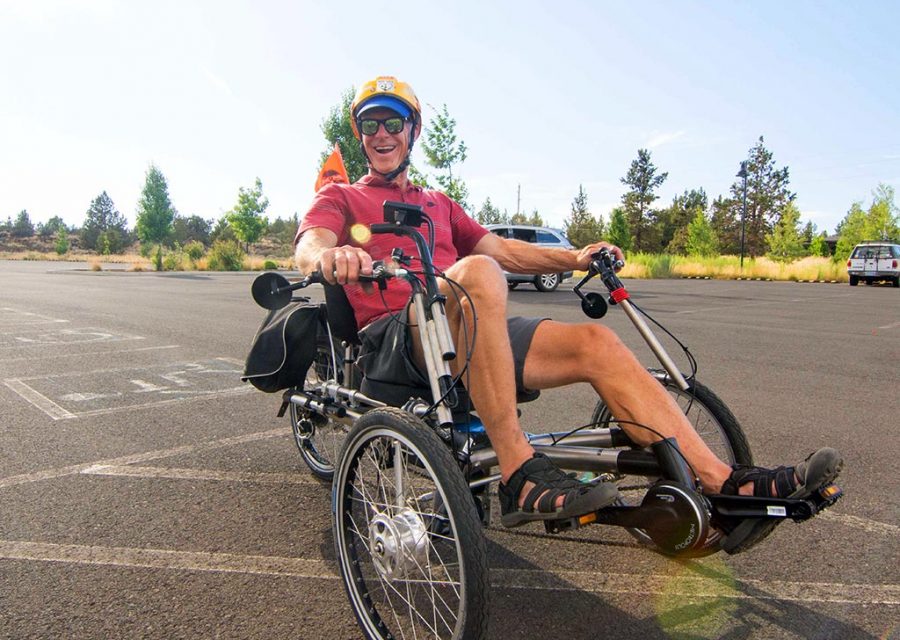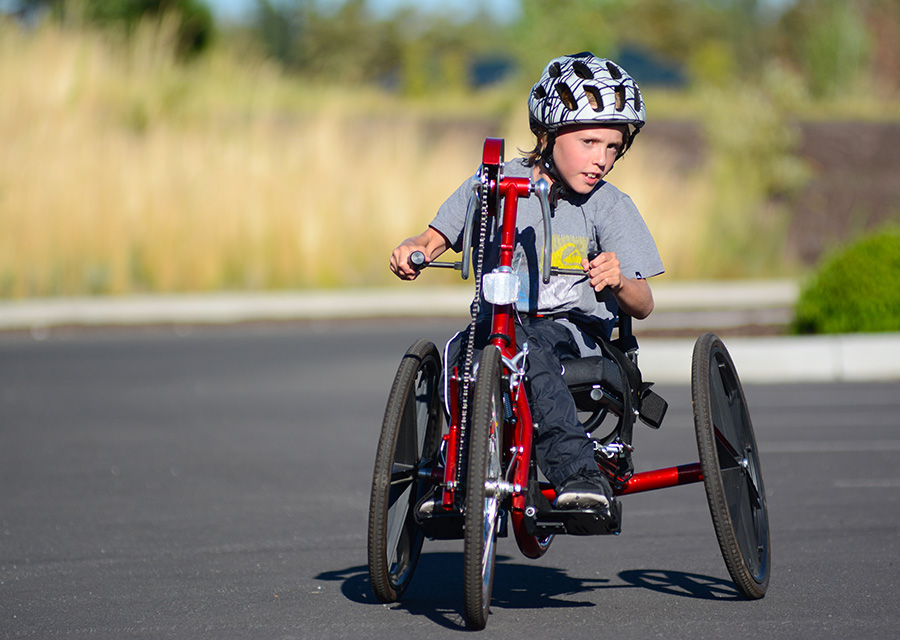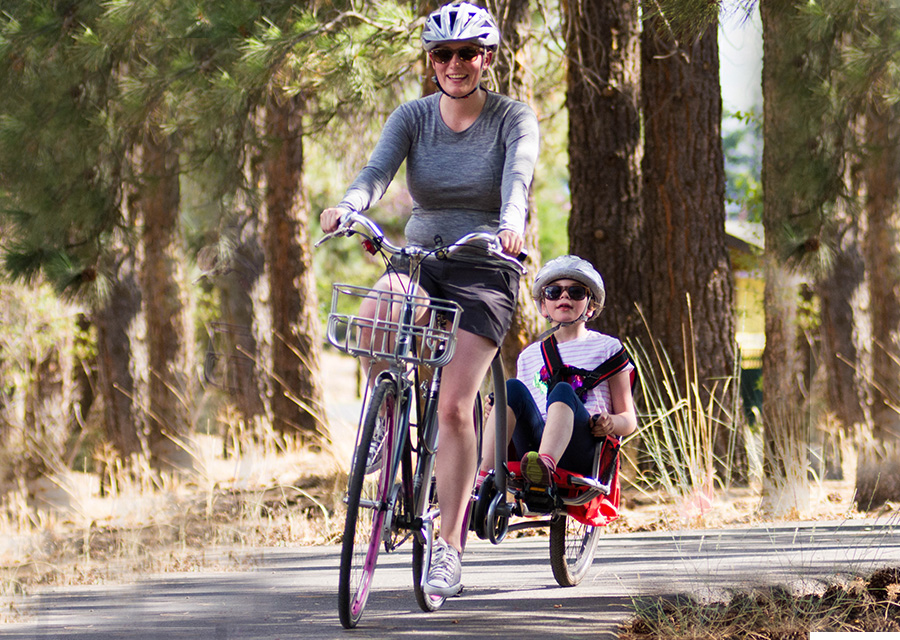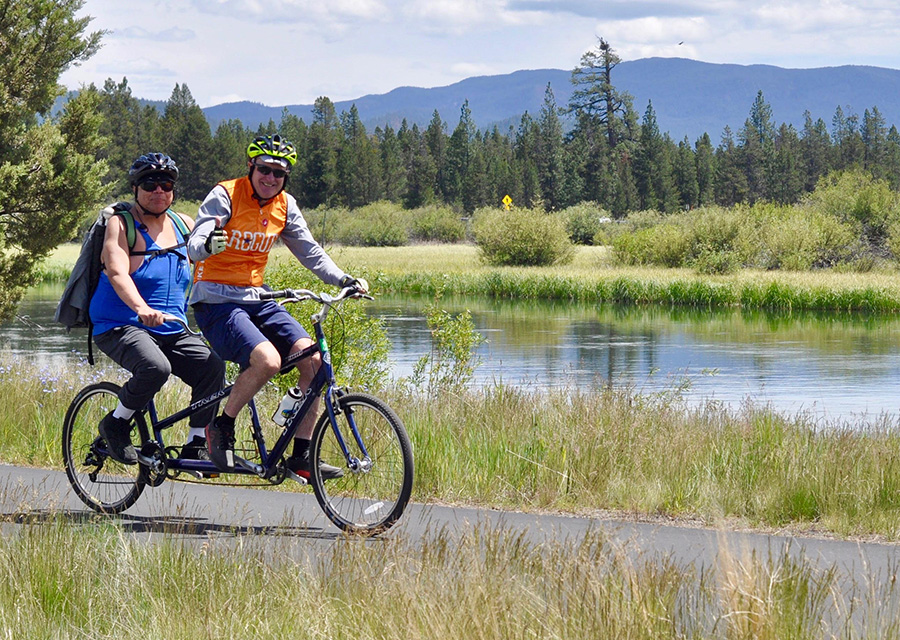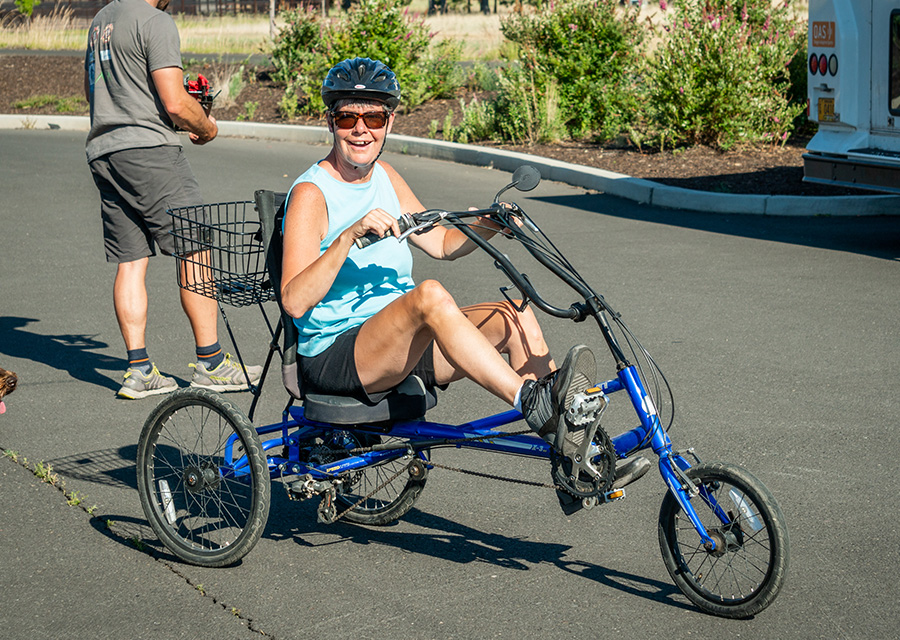 OAS offers custom adventures, community cycling programs and supports cycling events for a wide range of people with disabilities in a variety of locations throughout Central Oregon. Our staff and volunteers are trained to work with all of the specialized equipment and are up for rides of any duration or challenge. OAS has trained tandem captains for riders with visual impairments.
OAS offers cycling at many locations in and around Bend based on client goals and abilities.  You can start your ride right from the OAS office or we can drive or meet you at any location in Central Oregon!
Athlete Registration
Rates and Fees
Cycling lessons and experiences are available both in-town (in or near Bend city limits) and out of town (more than 15 minutes outside of Bend city limits). List rates are based on desired location and duration of your lesson.
All pricing includes all equipment and accessible transportation to and from the OAS office if desired. Scholarships are available for individuals who demonstrate financial need and complete our scholarship process.
Community Cycling Night:
FREE – Wednesdays in June and July (no July 3rd); 4:30pm-6:30pm at Pine Nursery Park
In-Town Private Session:
$45 – Half day; 9:30am-Noon or 1:30pm-4:00pm
$70 – Full day; 9:30am-4:00pm
Out-of-Town Private Session:
$85 – Full day only (due to transportation time); 9:30am-4:00pm
If transportation is arranged, you will meet at the OAS office 30 minutes prior to the times listed here. All pricing is valid for one participant and one family member, friend, or caregiver.
Adaptive Equipment
Adaptive sports are a unique experience for each individual. The following information is intended to give you a broad understanding of the adaptive disciplines we instruct and some of the equipment that is used in each of them. There are many adaptations and variations within each discipline.
Adaptive Cycling Equipment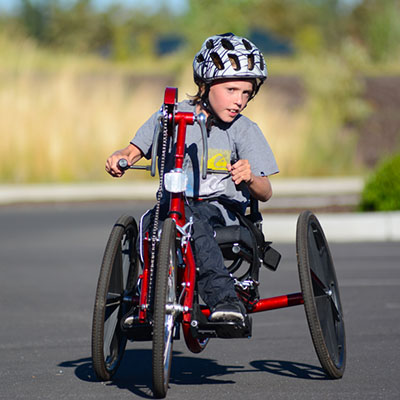 On-Road Handcycle
Handcycles work well for those athletes with limited leg strength or mobility. The pedals usually operated by the legs/feet are designed so that they be operated by the hands/arms instead. These bikes are usually configured in a recumbent or sitting position.
OAS On Road Fleet Includes:
Freedom Ryder FRH-1
Top End Force 2
Top End Excelerator
Top End Excelerator XLT
Kids – Quickie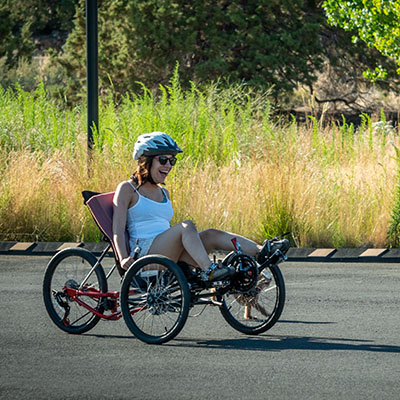 Recumbent Trike
For those who have strength or balance challenges, these three wheeled bikes offer a more stable platform to enjoy cycling than an upright two-wheeled bike. These bicycles are foot powered, easier on the back and can be adapted to fit a wide range of abilities. OAS has mostly on road variations as well as one off road fat trike, youth models and one with e-assist.
OAS Fleet Includes:
Cat Trike Expedition
Terra Trike Rover with E-Assist
Sun Trike
Ice Full Fat Trike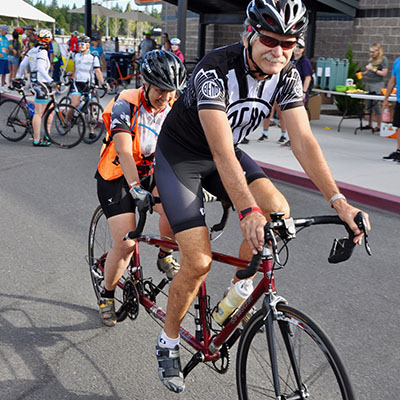 Tandem Bike
A tandem cycle is a cycle built for two individuals where the "captain" pilots the tandem bicycle, typically managing the steering and brakes. The "stoker" assists with pedaling. Tandem bikes are a good option for people with visual impairments or disabilities affecting balance.
OAS Fleet Includes:
Trek T900
Santana Sovereign
Hase Pino (recumbent in front)
Burley Tandem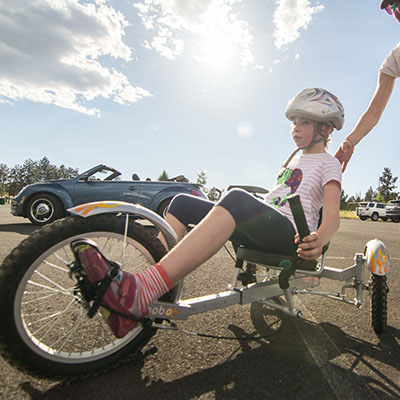 Youth Bikes
Youth benefit from the joys of riding a bike too! OAS has equipment to accommodate the needs of a range of younger individuals or they can work on using their own bike with the help of adapted instruction.
OAS Fleet Includes:
Mobo Recumbent Trike
Wahoo Recumbent Trailer Bike
Haro Kids Bike w/ Assist Bar
Giant Half Wheeler Trailer Bike
Quickie Youth Handcycle
Wildcat Kids Off Road Handcycle