Bend Bike Scavenger Hunt #1 – Westside/Downtown
Follow these clues for urban exploration and adventure!
By Kellie Standish
OAS Staff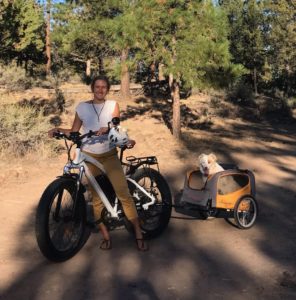 I love any excuse to get on a bike and over the years my love for bicycles continues to grow and evolve. One of my favorite and most consistent joys has been bike commuting and urban exploring. I love treating every journey as an adventure – finding a new trail, new road, new way to get to where I need to be. It makes every day feel like an adventure, and as someone who ends up being very busy building adventure into everyday tasks is critical. Now especially, as we are being asked to stay closer to home, it is the perfect excuse to explore the roads and trails around you and find your favorite way to get from place to place.
My biggest barriers or challenges were figuring out the right setup and the right routes. These days, I am often towing my dog in her trailer so being on less busy side roads is something I prefer. This scavenger hunt is designed to get you exploring different Bend neighborhoods and finding spaces that make you feel comfortable moving around on a bike in an urban environment.
Scavenger Hunt Logistics
Stay tuned in the weeks to come for parts 2 – 6 which explore other parts of town and end with an urban off road adventure. 
Clues are in order but may be followed in any order desired
Scavenger hunt is most fun if you use it as an excuse to plan routes from place to place or try and see new things, tips are below for planning the best route
If you would like to skip the riddles, scroll to the bottom for the answers
Each week will build on the mileage and adventure of the last
All routes except week six will be oriented for road bikes/ hybrids/ cruiser bikes
Please practice wearing a helmet using proper hand signals and following Oregon Bike Laws while pursuing this adventure. (New in 2019 law: Oregon's stop as yield law)
Tips for Planning Your Routes
Trial and error is part of it, so don't be afraid to try!
Ask other people you know who bike commute.
Look at streets that run parallel to the main roads by you.
Look at Google Earth for gravel roads or connectors.
Read about neighborhood greenways (there are extra right now during COVID!)
When you drive around town take note of busier roads that have clear bike lanes like Portland or Butler Market.
Check out Bend specific bike resources from Commute Options.
CLUES FOR PART 1
This week's route is approximately 6 miles – measured from the starting location to all the other locations and back to the first location. All locations are in the downtown/closer Westside region.
In this plaza was once a shop named for a crow, when summer arrives it's where farm stands all go
This concrete park structure sits right along the Deschutes river, and the artists who perform here always deliver
This large stone furry creature has been wearing his mask, to greet all the shoppers for whom groceries are the task
A hidden gem on the Bend westside, to this park is a fun place to ride. Tucked between houses and ponderosa trees, this winter sled spot is named for when the sun leaves.
This little section of river brought the surf life to Bend, a spot so popular that the line never seems to end.
This statue of boats is a memorable mark, at the entrance where all the river tubers must park
ANSWERS FOR PART 1
Plaza at the Commons
Amphitheater at Drake Park
Bear at Newport Market
Sunset View Park
Bend Whitewater Park
Kayak statue at Riverbend Park
Disclaimer: The scavenger hunt is made available for recreational purposes, please USE THIS INFORMATION AT YOUR OWN RISK. Oregon Adaptive Sports is not liable for injury or actions resulting from virtual information. You are responsible for your own safety.