Kayak Adaptations
Learn how to outfit your kayak to fit your adaptation needs!
by Matt Porter
OAS Staff
If you are interested in adaptive kayaking or already have your own boat and need to make modifications for adaptability, this article will take a look at some of the ways the boat and paddle can be modified with aftermarket accessories to aid in enjoyable paddling. These are all adaptations that OAS uses during our own programming (except outriggers), but we do not endorse any particular brand or manufacturer. Please email us with any questions regarding kayak adaptations or to share your own adaptations. 
Paddle Grip Adaptations
*Please note that when using grip adaptations and paddle supports, they increase the likelihood of the paddle remaining attached to the hands during an unplanned exit from the boat and may also impede lower limb exit. As such, always wear a personal floatation device on the water, paddle within your skill level, practice emergency exits in your kayak with adaptive equipment installed, and paddle with someone else.
Neoprene wrist wrap
These can be an inexpensive and locally available way to give some light support to the hands and wrist around the shaft of the paddle. The "Ace" brand wrap is commonly available in stores and online, but anything similar will suffice. 
Pros:
Locally available
Generally inexpensive compared to other adaptations 
Cons:
May not provide enough grip support
Hook and loop fastener is low quality 
May stretch when wet
Active Hands
This is somewhat similar to the ace wrap above, but with a more robust construction and better hook and loop fasteners. This may be a good option if you need more wrist and hand support than the neoprene wrap above can provide. The wrist cuff allows some of the pulling and pushing strain to be placed on the wrist instead of the fingers. https://www.activehands.com/
Pros:
Simple, low tech design
Home repairable
Can be used for other purposes
Cons:
May not provide enough support for some
Can stretch or work loose
Sold individually for $80+ USD
Creating Ability Hand Adaptation
From their website: "This back-of-the-hand grip is designed for use by those who have some hand function and can grip the paddle shaft on their own, but need a bit more support. The adaptation takes lifting pressure off of the fingers and places it on the arms. The height is adjustable and the end is open to allow for proper pressure without inhibiting release." (Link) 
These can take a little time to set up initially and a partner is almost necessary for ease of install. Overall, they are fairly simple to adjust after the initial installation as it is only held on with hose clamps (be careful when installing on carbon shafts not to over tighten the clamp).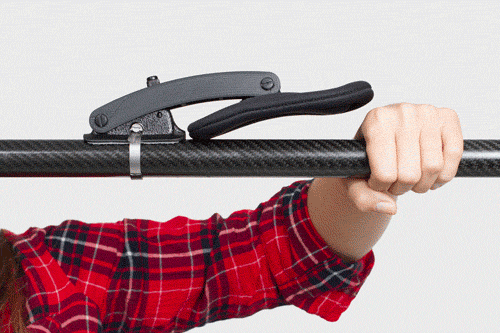 Pros:
Simple, low tech design
Band clamp easily replaceable
Easy to adjust tension in and out against the hand
Cons:
At $145 per pair, they aren't "cheap"
Hand can still slip out if paddler doesn't have grip with their fingers
Band clamps are hard to setup and adjust with one person 
Creating Ability Wrist Adaptation
From their website: "For those who are not able to grasp the paddle shaft, we designed a two-part system. A wristband is worn on the wrist and an attachment plate is mounted to the paddle shaft. The wristband then slides into the paddle attachment, allowing full power, rotation and control without releasing. However, it releases easily by sliding the hand out, maximizing safety." (Link)
This design allows the wrist joint to support the push and pull of a paddling motion. It can hang up on the slots at times not allowing a clean exit, but overall they work well for their intended purpose.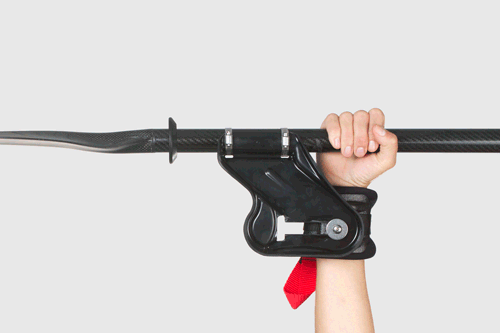 Pros:
Simple design
Does not require finger/thumb/grip strength, relies on wrist joint instead
Cons:
With heavy use, the plastic slots will become worn due to the much harder metal studs used in the wrist portion. 
May stay attached to paddle during a roll-over 
At $145 per pair, they aren't "cheap"
Paddle Supports
These supports remove the need for the paddler to support the weight of the paddle, instead the paddle is supported by a frame mounted to the floor of the kayak. The general principle is that the paddle support creates a pivot point around which the paddle stroke can happen. This pivot also allows one handed paddling. 
Creating Ability Paddle Pivot
From their website: "The combination of our Universal Base with this pivoted paddle adaption allows one-arm control of the kayak. It also provides support to completely remove the weight of the paddle from the paddler's arms when using both arms. The pivot assembly snaps onto any paddle shaft. The paddle and pivot assembly lift out of the base for ease of entry and safety in the event of a wet exit." (https://www.creatingability.com/paddle-adaptations/#paddlepivot)
We have been using this system in several of our boats for a few years now and it works well. The base and tracks can just be duct taped to the floor of the kayak and adjusted from there. It doesn't require drilling into the hull of the boat. It can also be swapped to different boats (rentals, etc.). The paddle snaps into the top "y" piece and the vertical shaft is adjustable. If someone has a tendency to pull up on the paddle, the support shaft can come out of the socket in the base. This is designed that way for safety but is something to be aware of. 
Pros:
Doesn't require permanent mounting, can be swapped to different boats
Simple, robust design
Easy height and reach adjustments
Support is easily removed for loading/unloading
Cons:
$195 may be too much for some, but otherwise seems reasonable for this system
Angle Oar Versa Paddle
This is a newer device on the market and we honestly haven't had any field time with this unit. It is included here as an alternative example of a paddle support. It does require that you drill into the hull of the kayak to mount the base. (https://www.angleoar.com/versa-kayak-paddle)

Pros: 
Ability to change the angle of the paddle shaft
Paddle pivot system is smooth and unencumbered
System pivots out of the way for loading/unloading
Cons:
Proprietary paddle
Requires drilling into the kayak
Other Adaptations
Adaptive seat systems
The standard seat in a kayak can be replaced with an adaptive specific option to provide more support to the upper torso. The only model I could find was the Creating Ability seat pictured below. (https://www.creatingability.com/seating-systems/#basicseat)
Pros:
Cons:
Cost
May limit natural paddling motion
Outriggers
These can be added to almost any kayak and help to make the boat more stable side-to-side.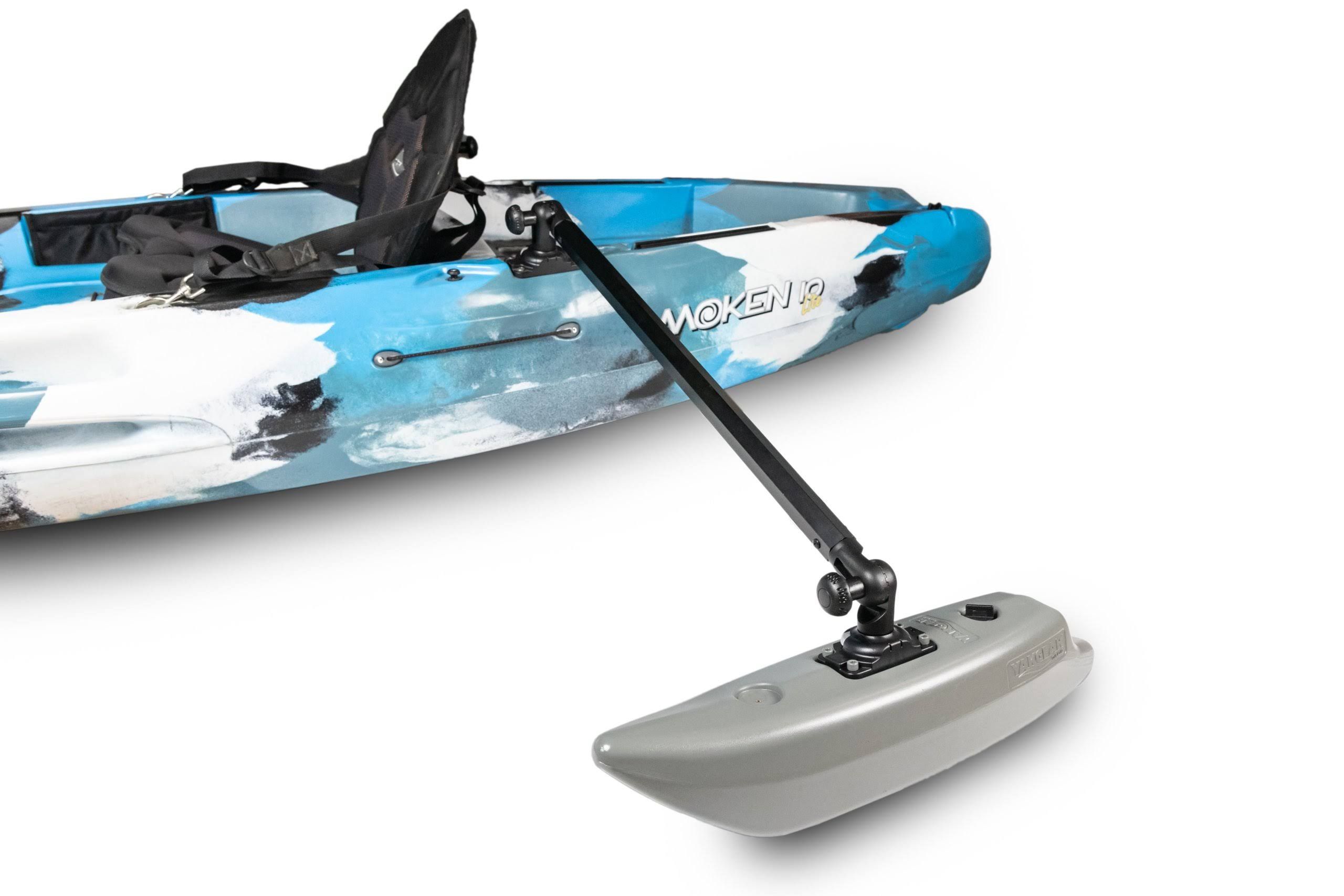 Pros:
Can be a cost effective way to add stability to almost any boat
Cons:
Usually requires drilling to mount to the kayak
Makes the boat wider, limiting narrow passages
Can make the boat harder to right after flipping
Have questions or want to learn more? Think we should add something? Feel free to send us an email with any thoughts, questions or concerns – we are happy to help you adapt your paddle setup, especially while we are not able to provide in-person paddle opportunities.