Alpine Skiing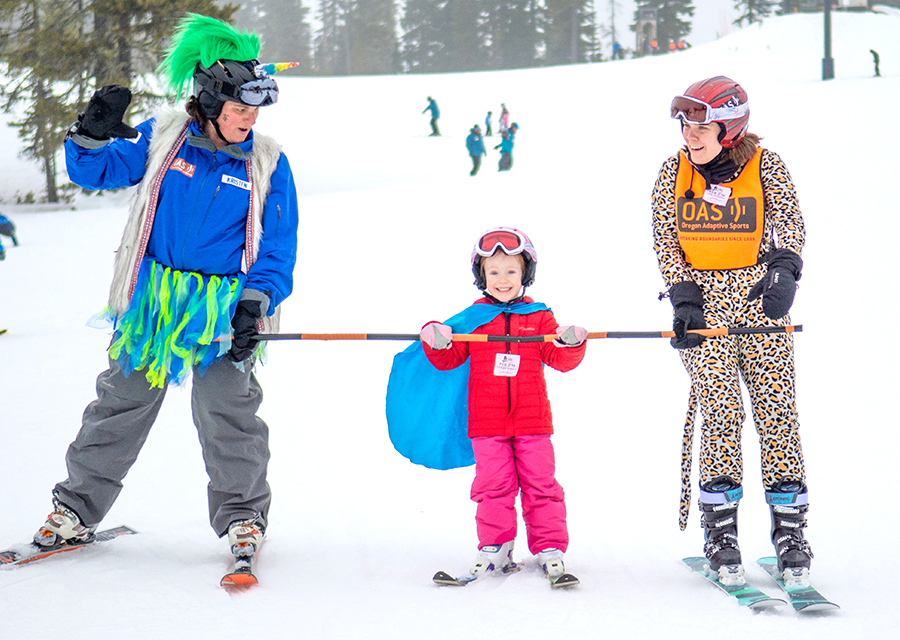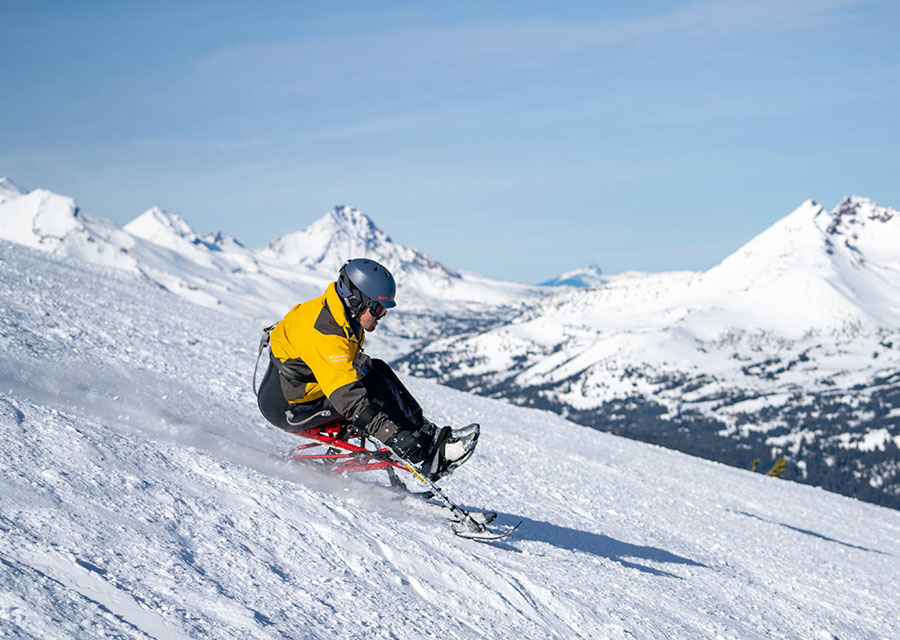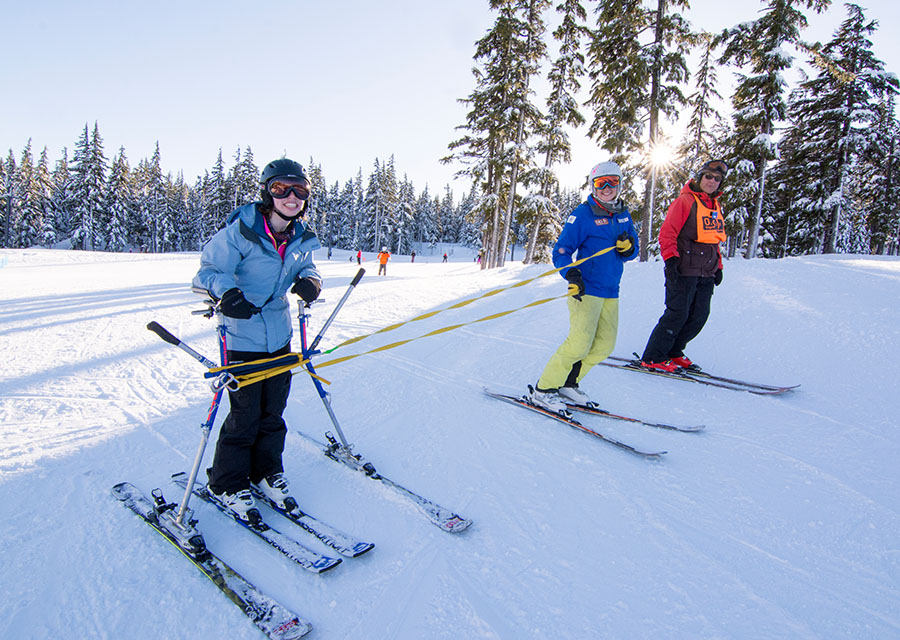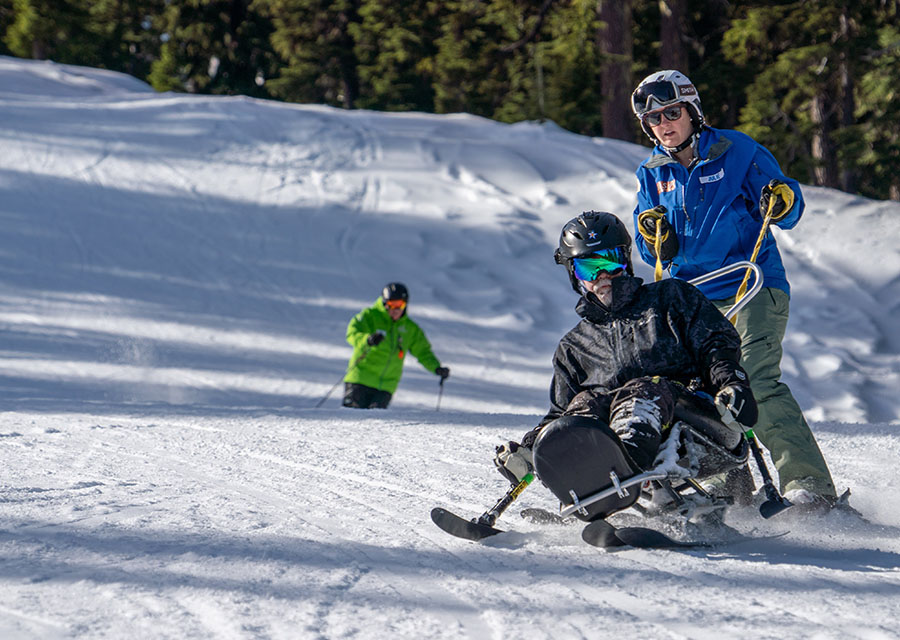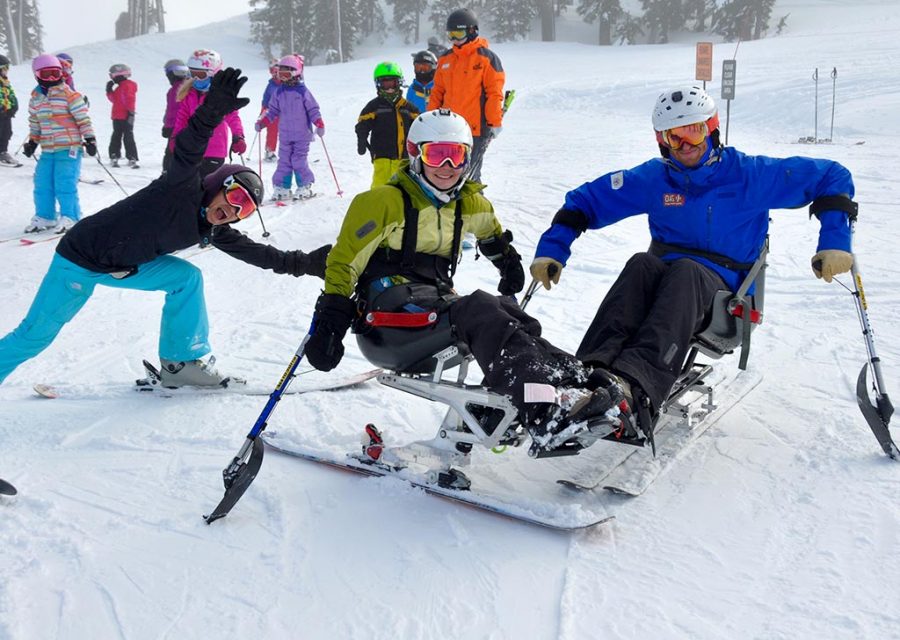 The OAS staff consists of certified adaptive instructors trained in the disciplines of mono-ski, bi-ski, 2-track, 3-track, 4-track, alpine, nordic skiing, snowboarding and guiding skiers with visual impairments. Each lesson is individually crafted to fit the needs and goals of the participant.
OAS offers adaptive alpine skiing lessons at Mt Bachelor, Hoodoo Ski Area, and Mt Ashland. Each Lesson is individually tailored to fit the needs and goals of each athlete.
Athlete Registration
Rates and Fees
Our lesson rates include all necessary equipment (rentals and/or adaptive), a lift ticket, and a trained instructor:
Mt Bachelor Rates and Fees:
Mt Bachelor lessons will be offered daily from Monday, December 19th – Sunday, April 2nd. Lessons are offered 7 days a week.*
*OAS will be closed on December 25th and January 1st.
Half Day Lessons: $75
7 days/week | Monday – Sunday
2.5hr lesson offered at an AM or PM lesson time
AM Lesson Times: 9:30am – 12:00pm 
PM Lessons Times: 1:00pm – 3:30pm
Hoodoo Rates and Fees:
Hoodoo Programs will run from January 12th – April 2nd. Lessons will be offered weekly, Thursday  – Sunday. Transportation will be provided from the Willamette Valley on Friday and Sunday (if needed), for Alpine Adventures. 
Half Day Lessons: $60
4 days/week| Thursday – Sunday
2.5hr lesson offered at an AM or PM lesson time
AM Lesson Times:  9:30am – 12:00pm
PM Lesson Times: 1:00pm – 3:30pm
Full Day Lessons: $95
Consecutive AM and PM Sessions
Lesson times: 9:30am – 12:00pm | 1:00pm – 3:30pm
One hour unsupervised meal break
Transportation from Willamette Valley | Fridays and Sundays
Mt Ashland Rates and Fees:
The Mt Ashland pilot program will run half day alpine lessons on Friday & Saturday from January 19th – April 2nd.
Half Day Lessons: $75
2 days/week | Friday & Saturday
2.5hr lesson offered at an AM or PM lesson time
AM Lesson Times: 9:30am – 12:00pm 
PM Lessons Times: 1:00pm – 3:30pm
Adaptive Equipment
Adaptive sports are a unique experience for each individual. The following information is intended to give you a broad understanding of the adaptive disciplines we instruct and some of the equipment that is used in each of them. There are many adaptations and variations within each discipline.
Adaptive Alpine Skiing Equipment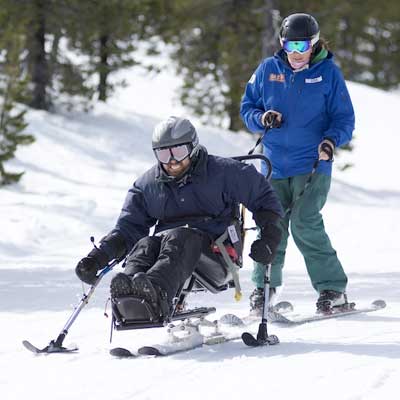 Bi-Ski
Utilizes a bucket style seat with two skis underneath it. The bi-ski is designed for those who use a wheelchair or have difficulty walking or standing. A bi-ski can be skied independently like a mono-ski using the same type of handheld outriggers or can be skied with the assistance of an instructor using fixed outriggers and tethers (reins attached to the back of the bi-ski). Skiers turn by either moving their head and shoulders or by using handheld outriggers.
OAS Fleet Includes:
Enabling Technologies Dynamique
Mountain Man Bi-Ski
Hands On Concepts Glide
Enabling Technologies Bi-Unique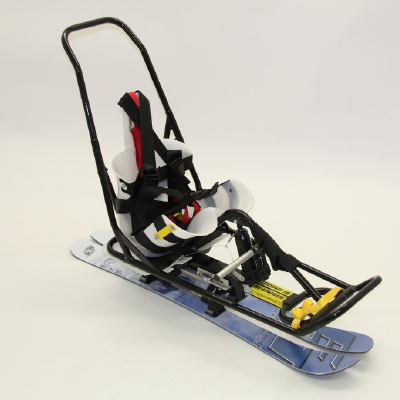 Bi-Unique
The Bi-Unique is used by almost every adaptive program around the world. It has set the standard for introductory sit skis and gives you the ability to ski as independently as your experience and abilities allow! Boasting the lowest center of gravity of any sit ski on the market, the Bi-Unique is easy for high level injuries to maneuver. Designed 20+ years ago, the Bi-Unique continues to be a resilient, versatile & long-lasting bi ski.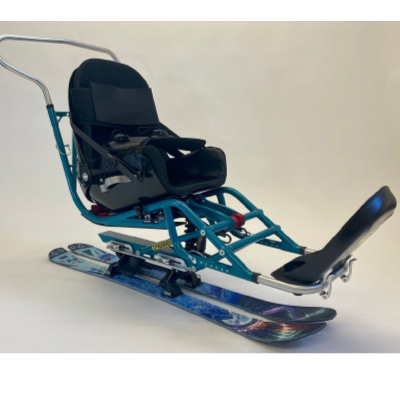 Dynamique
The Dynamique has proven itself as the ultimate bi ski and bridges the gap between the Bi-Unique and mono skis. Skiers and instructors alike are enjoying the unparalleled design of the Dynamique. An unprecedented load height, unique tension-ed load system, and performance suspension are just a few of the features that make the Dynamique an unbounded bi ski!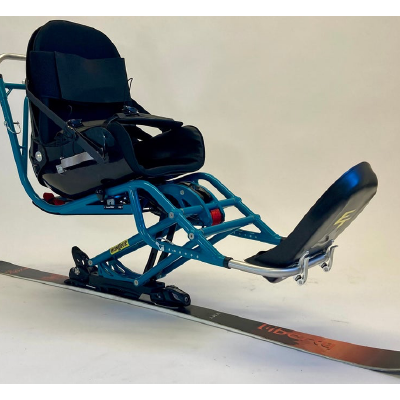 Monique
The Monique has proven itself as the ultimate program mono ski and bridges the gap between novice and upper echelon sit-skis by increasing stability and forgiveness. Unlike most monos, the Monique has a low center of gravity which promotes a slower transition from edge to edge and is forgiving to form flaws. Riding at under a foot off the ground, it sits 3-6″ lower than most monos on the market. Although it is a great learning tool, it has the capability to leave the greens behind!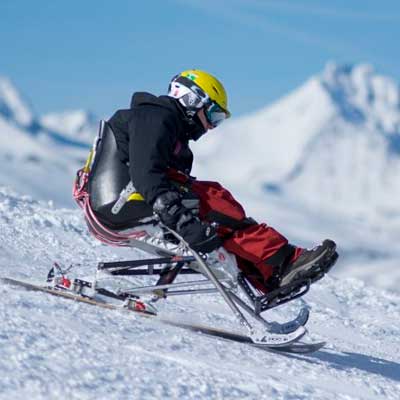 Mono-Ski
Utilizes a bucket style seat with a single ski underneath it. Skier uses handheld outriggers for balance, typically made easier with strong arms, core strength and trunk balance. Unlike the bi ski, the mono ski can only be skied independently.
OAS Fleet Includes:
KBG Lynx
Enabling Technologies Monique 1
Praschberger Monoski
Freedom Factory Revolution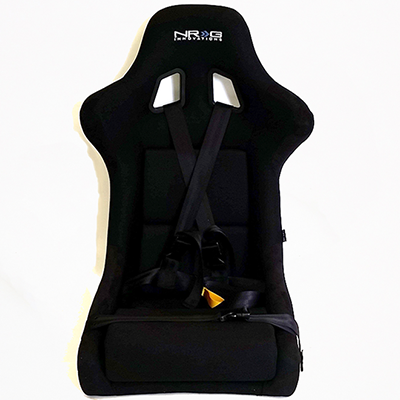 NRG Seat
The NRG Seating System is an option for skiers that require a high level of upper body and head support. The seat measures approximately 16″ wide at the waist.
Each seat is finished with over the shoulder / waist / thigh straps for security and side handles for instructors.  The seat comes predrilled for the Dynamique Bi Ski and includes the adjustable dump bracket.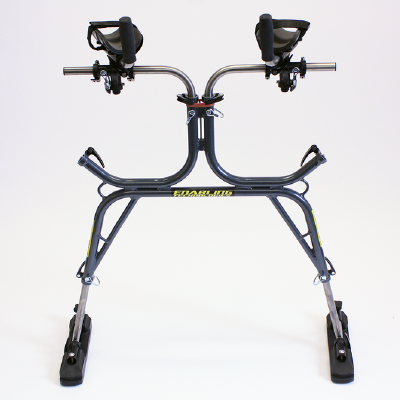 Slide Unique
The second generation of the Slide Unique remains the lightest and most adjustable offering on the market. To meet the needs of stand up skiers the Slide Unique now offers a balance of infinite adjustment and strong hold through a combination of tooled clamps and pinned positions. Custom clamps have been sourced to improve ease of use while its custom boot allows tool-less size changes.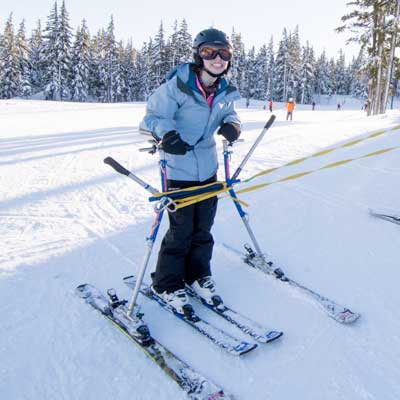 Snow Slider
Another variation of skiing for individuals with more severe balance challenges. A mounted frame that clicks into separate skis appears like a walker on skis and is tethered by a trained instructor. The stand-up skier uses their own boots and skis with the metal frame as support. This can be used long term or in a progression towards three track or four track skiing.
OAS Fleet Includes:
Enabling Technologies Slide Unique
Freedom Factory Snow Slider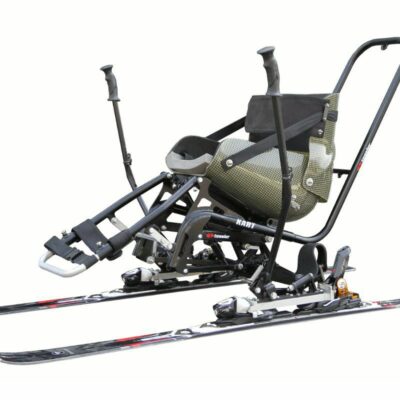 Snow'Kart
Snow'Kart is designed for people who have a lack of strength in the upper body and/or who don't have enough balance to ski with mono-ski or bi-ski. Thanks to the Easy Drive kit, the Snow'Kart is the only equipment in the world that could be driven by one hand.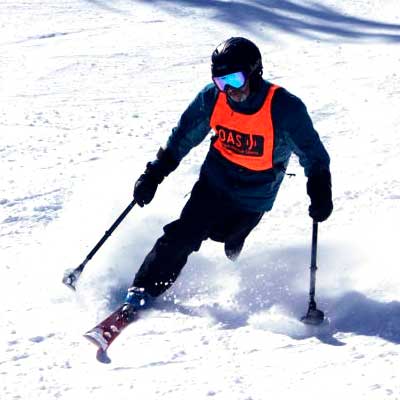 Three Track/Four Track
Three tracking and four tracking are for individuals who have the ability to stand on one leg or two but need the added balance and steering of using two outriggers. Three track skiers typically have one leg and two arms. Three trackers use a standard ski and two outriggers giving them three points of contact on the snow. Four track skiers have two legs and arms, natural or prostethic. They typically use standard skis and two outriggers, giving the skier four points of contact with the snow. Stand up outriggers are also sometimes used with a snowboard.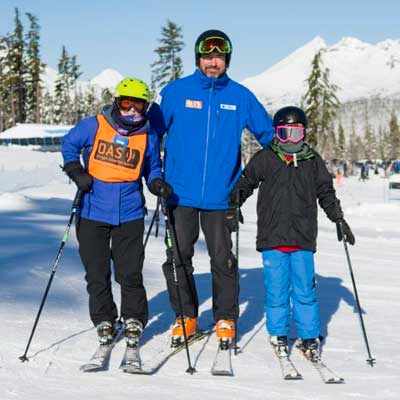 Two Track
Skier who can stand and maintain balance while in motion often use standard skis, although adaptive equipment (tethers, spacers, tip retention devices, etc.) may be used to aid in the learning of muscle movements.