Backyard Naturalist: Week #1
Where YOU get to be a naturalist in your own backyard.
by Matt Porter
OAS Staff
Now more than ever, we need things that help to make us feel grounded. When the pandemic began to show it's effects and time seemed to slow down, I was reminded that the natural world was still in full spring swing. Outside the confines of home, I could hear, see, smell, and touch what was going on around me. Birds were singing mating songs and anxiously defending territories, flying insects busily buzzed about to make the most of their short lives, trees and bushes were working hard to push forth new buds and beautiful flowers. I could smell the sweet and spicy blossoms of the wax currant and bitter brush, breathed in the dampness from the spring rains, and could hear the wind blow through the new green leaves of a stand of quaking aspen that were dormant and barren all winter. It was through this intentional slowing down, checking out from electronics and media, and letting life happen around me that I felt comforted and connected. It was a reminder that we are all still here and can choose to be part of the natural world around us whenever we feel like we need or want to. Infinite wonders await us as soon as we step outside and open ourselves to nature's rhythms. 
This six part series on being a backyard naturalist is aimed at helping to get folks interested in observing nature around them and sharing their experiences with others. There will be a weekly blog post and a live session in which we will share stories, resources, and ask questions. You can sign-up for the live Zoom sessions through the button below:
Some of the best things about being a backyard naturalist is that there is no mandatory cost, it can take as little or as much time as you would like, it can be done anywhere you are outside, and it's adaptable to your abilities. There are many free online resources to utilize for things like plant and bird identification without having to buy a guide book. I've compiled a list of potential resources below if you are looking for more information on where to start. Many of these resources are centered around birding since the bird's mobility, vocal nature, and variety often make them easier to see and hear than many other animals. Read on below for the first two highlighted species and additional resources! 
Bird of the Week: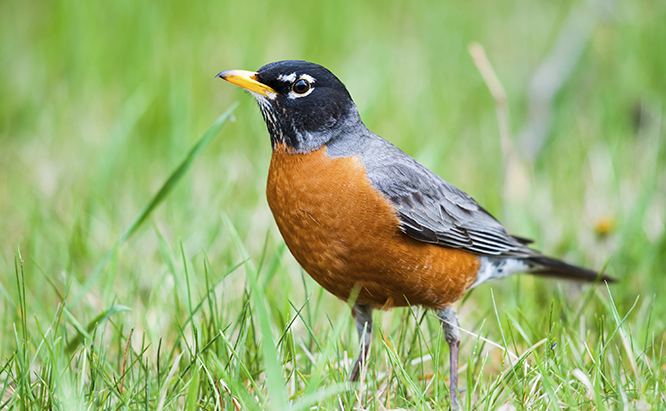 Common English Name – The American Robin 
Scientific/Latin Name – Turdis Migratorius
This bird can be found almost anywhere in the U.S. and it is very likely to be seen hopping around your yard looking for tasty worms to snatch up.
More info on how to ID a robin:
All About Birds – Robin physical appearance Link
Sound clips to help you ID a robin:
All About Birds – Robin Sounds Link
Plant of the Week
Common English Name – Dandelion
Scientific/Latin Name – Taraxacum officinale
Although it isn't native to the U.S. and often dismissed as a nuisance and an invasive weed, the humble dandelion has much to offer. 
How to differentiate a Dandelion from a common look alike:
Identify that Plant – Dandelion and Cat's Ear Link
Interesting facts about the plant:
Maine Organic Farmer – Dandelion Link
Note: Please do not consume any wild plant based on the information given here.
Resources For Birding
General Information/Where to Start:
Phone Apps:
Oregon Birding Resources:
Birding checklists by county: https://www.ecaudubon.org/county-checklists
Birding Locations by county: https://www.ecaudubon.org/birding-locations
Cascade Birding Trail Guide: http://www.oregonbirdingtrails.org/cascguide/trailguide.pdf
Other Oregon specific resources:
Birding by Ear:
A fun online game to hone your bird song ID skills: https://academy.allaboutbirds.org/bird-song-hero/
Birding with blindness or VI:
Articles about birding from someone who is legally blind:
Kids Resources:
Backyard Naturalist Series