Accessible Route of the Week: Riley Ranch
New routes highlighted weekly.
by Hayley McClure
OAS Staff
The Riley Ranch Nature Reserve offers an opportunity to feel truly remote within Bend's City Limits. Tucked away past a small neighborhood off O.B. Riley road, this historic ranch opens up to a beautiful and sweeping landscape with dynamic views of the mountains and a birds eye view of the deep Deschutes river canyon. Wildlife migrates freely through this area and you are bound to get a show! It is truly an all in one experience within a one mile loop. Bring a journal to sketch your favorite flower at a bench or viewpoint, binoculars to discover the abundance of wildlife, or a camera to catch a mountain sunset at this one of a kind accessible trail.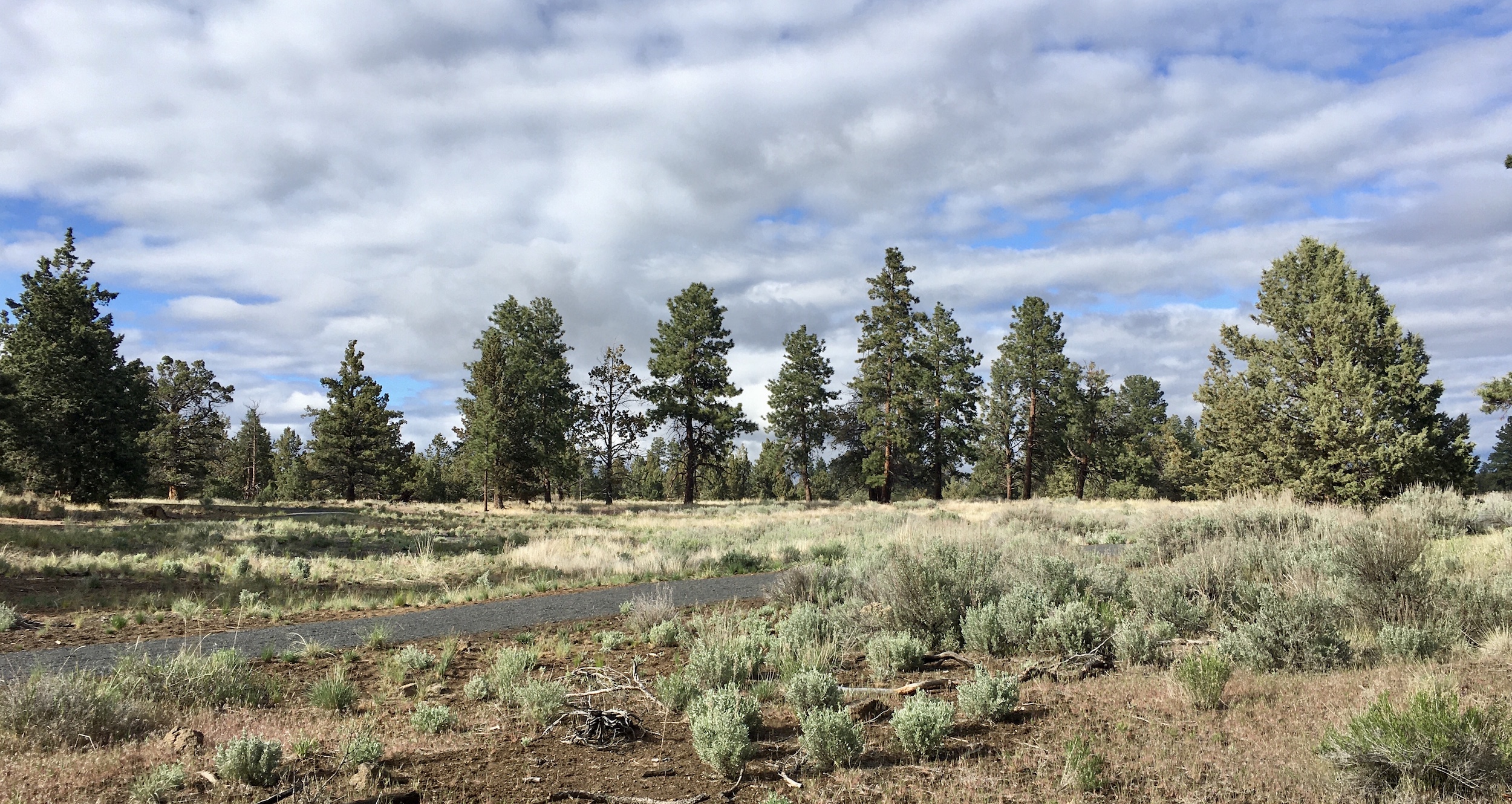 OAS ROUTE OF THE WEEK
Riley Ranch Nature Reserve 
LOCATION
Riley Ranch is tucked away off O.B. Riley Rd, North of Sawyer park and South of Tumalo State Park. It is located at 19975 Glen Vista Rd, Bend, OR 97701. 
PARKING
There are 2 ADA parking spaces, 1 parking space is van accessible 
AMENITIES @ LARKSPUR PARK
Parking includes ADA parking, approx 20ft from trailhead
1 ADA Restroom – Year round, pit toilet, approx 80ft from trailhead entrance
No running water, bring your own supply
Natural wood picnic area at trailhead
Natural wood benches at trailhead and throughout Juniper Loop trail
Canyon overlook and nature viewing lookouts throughout the reserve. 4 total
Interpretive stations at trail markers and lookouts
PUBLIC TRANSPORTATION
Riley Ranch Nature Reserve is not located on a daily scheduled CET bus route, however, you can schedule transportation with Cascade East Transit's Ride Assist Dial-a-ride to plan your next outing. Follow this link for more information on Dial-a-Ride and scheduling: https://cascadeseasttransit.com/guide/policies/ride-assist/
TRAIL MAP
Trail information and signage is available at the entrance of the nature reserve and showcases all trails and features accessed from the park. Follow this link to the PDF map also found on the Bend Parks and Rec site: https://www.bendparksandrec.org/wp-content/uploads/2017/11/RRNR-Trails.pdf 
FACILITY CONTACT INFO
Bend Parks and Recreation
District office (during business hours) –  (541) 389-7275
Juniper Swim and Fitness (after business hours) – (541) 389-7665
Park Services (for maintenance notifications)  – (541) 388-5435
TRAIL DESCRIPTION
A well developed entrance offers parking, restrooms, and a visual information kiosk about the ranch history, nature preserve, and trail layout. The trail begins directly across from the parking area and takes off along a wide, compact gravel path that is the starting point for  two accessible loops. 
Various viewpoints along the relatively flat, and slightly rolling path showcase a mix of open sage and grasslands meadows, juniper and pine forests, mountain vistas, and a glimpse down into the Deschutes river and canyon below. Along the shorter Juniper Trail, enjoy resting at a rustic bench and listen for native birds and busy wildlife.  Interpretive posts feature wildlife, geology, and ecology at each of the viewpoints approximately every ¼ mile. The Canyon Overlook viewpoint and patio marks the halfway point along the larger Sage Flat Loop trail, and an opportunity to feel the vastness of the canyon and hear the rushing river below. Both routes can be traveled in either direction. 
Bicycles and dogs are prohibited from the reserve to minimize disturbances to wildlife and preserve the tranquility of the trail.The area is frequently used as a fitness loop for exercisers, birders and wildlife enthusiasts, and anglers making their way to the river canyon below.  A steep, rocky tie connects the upper accessible routes to a lower, rugged canyon loop along the river. This extension is not part of the recommended accessible route. 
TRAIL OPTIONS AND RATINGS
Juniper Loop Trail: Moderate – 0.65 Miles
The Juniper loop trail is the shortest loop option, totalling approx .65 miles. It's wide compact gravel path is relatively flat with some steeper rolling grades up to 8% and cross slopes no larger than 2%. There are three opportunities to rest at a rustic bench along the path. People using a mobility device may require assistance. 
Sage Flat Loop Trail: Moderate to Difficult – 1.15 Miles
This is the longer of the loops and extends from the Juniper loop trail to wrap around the upper perimeter of the reserve. The wide compact gravel path continues throughout the Sage Flat Loop, and is approx. 1.15 miles long. This loop undulates more than the Juniper trail, with grades up to 9%, while still maintaining even cross slopes up to 2%. A longer steep incline with 9% grade leads up to the Sage Flat Overlook. People using a mobility device may require assistance. 
TRAIL ELEMENTS
Surface: Compact, crushed gravel 
Width: Width of trail varies between 6ft and 8ft
Grade: Rolling grades, partially flat with some steeper slopes. Grades up to 9%. Most slopes around 7-8% grade
Cross Slope: mostly even with cross slopes of 2% and less
Obstacles: None on upper loops
Distances: 
ITEMS TO NOTE
Dogs are not allowed at reserve
Bicycles or motorized vehicles are prohibited
There is no potable drinking water, remember to bring your reusable bottle!
A steep, dirt trail with large stone steps connects the upper Sage Loop Flat trail to the Canyon Loop trail below. Both the Robin Run and Canyon trails have large boulder features and steep grades that would be extremely difficult or unpassable for mobility devices, thus are not featured in this article
Please follow all park rules and regulations. For more information about the Riley Ranch Nature Preserve, visit the Bend Parks and Recreation website: https://www.bendparksandrec.org/park/riley-ranch-nature-reserve/
Please maintain social distancing while at trailheads and using trails
ADDITIONAL ROUTES ON THE THRIVE GUIDE
Tumalo Creek Trail @ Shevlin Park
Thanks to the work of Access Recreation, based in Portland OR, we've adopted their guidelines to describe our suggested routes, so that you have the information you need to make an informed decision. To learn more about Access Recreation and accessible trails in the Portland area, click HERE! 
Disclaimer: Please practice social distancing while out on trails and paths. Please note, this content was designed for informational purposes and to help you determine if this route is best for you. Please, USE THIS INFORMATION AT YOUR OWN RISK. You are responsible for your own safety and knowing your own fitness levels. Oregon Adaptive Sports is not liable for any injuries as a result of visiting and using these suggested routes.