Comparing the Different Types Adaptive Mountain Bikes at OAS
Compiled by: Dave Nichols
Are you ready for some fun?
Come biking this summer with OAS. They have the experience, equipment and the know-how to get you past obstacles along the way and return you safely.😊
OAS is building a fleet of bikes for the trails or for the roads suited for all types of riders, allowing adventures for all😊. Register for an event this summer at: https://oregonadaptivesports.org/events/
Check out their fleet of bikes to find one that works for you:
Ventana El Conquistador de Montañas Tandem Mountain Bike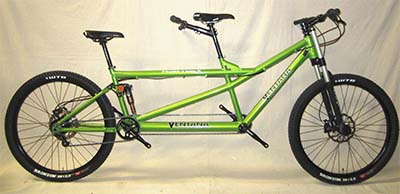 Manufacturer: Ventana Mountain Bikes USA
Model: El Conquistador de Montañas
Estimated New Cost: $ 3,845
Population best served: outdoor enthusiasts (tandem bike, leg-powered bike)
"For any two-person adventure, whether racing, touring or weekend family riding, the El Conquistador is your bike" written by the manufacturer
Bowhead Rx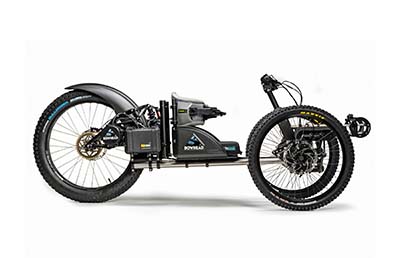 Manufacturer: Bowhead Corporation
Model: Rx
Estimated New Cost: $ 15,999
Population best served: SCI (recumbent tadpole trike, e-assist hand cycle)
With a suspension system for a nimble and agile ride, traversing off-cambered and rough terrain is a breeze. The Rx provides endless opportunities for access and exploration whether you're hammering down a paved road, navigating a gravel track, flowing cross-country or shredding single-track mountain trails. The Rx is uniquely tuned to each rider's thirst-for-adventure profile to provide a truly custom experience.
Lasher Sport All-Terrain Handcycle (no suspension or e-assist)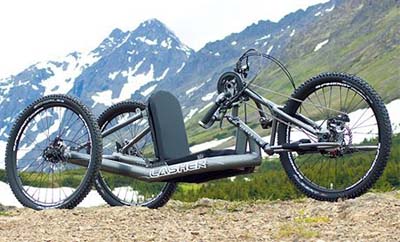 Manufacturer: Lasher
Model: ATH
Estimated New Cost: $ 7,595
Population best served: SCI riders who like a challenge (recumbent tractor trike, hand cycle)
More than an off-the-shelf handcycle with fat tires, the Lasher Sport ATH (All-Terrain Handcycle) was specifically designed for use off road yet is still very adept on the pavement. A generous 6 inches of ground clearance helps you get over rough trails and gnarly terrain. That's enough clearance to pop up or drop down a standard height curb when biking in the concrete jungle.
Lasher Sport E-Assist All Terrain Handcycle with Full Suspension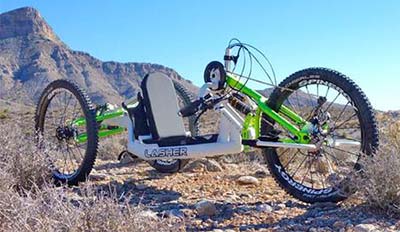 Manufacturer: Lasher
Model: ATH-FS
Estimated New Cost: $ 10,995
Population best served: SCI smooth riders (E assist, hand cycle, recumbent tractor trike)
The ATH-FS is a rugged full-suspension magnesium frame handcycle with Fox Shox shock absorbers on all three wheels. It is specifically designed for off road adventures with a patented front fork shock design that provides a smooth ride even in the most demanding terrain. Fully adjustable depth and angle seat back settings allow for a high degree of control and adjustment for maximum comfort. All-wheel hydraulic disc brakes offer superior stopping power.
ReActive Adaptations E-Assist NUKE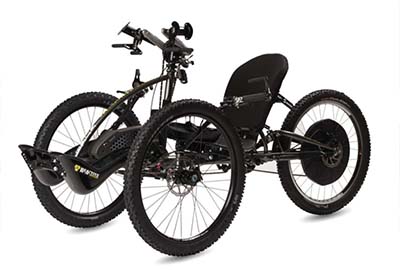 Manufacturer: Reactive Adaptations
Model: NUKE
Estimated New Cost: $10,800
Population best served: SCI outdoor enthusiasts (recumbent tadpole trike, E assist hand cycle)
The NUKE Off Road Recumbent handcycle is a unique, capable, rear wheel drive recumbent handcycle with rear suspension. Rear wheel drive handcycles are superior and much more capable than their front wheel drive counterparts. Traction and hill climbing with a rear-wheel-drive recumbent hand cycle are second to none. The NUKE was developed for riders not able to or not interested in riding in the prone position. The recumbent position is preferred by some riders.
ReActive Adaptations E-Assist Bomber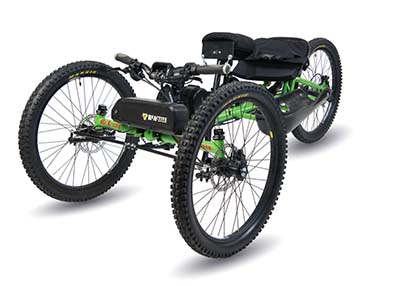 Manufacturer: ReActive Adaptations
Model: Bomber RS
Estimated New Cost: $ 10,650
Population best served: disabled and still badass (prone tadpole trike, E assist hand cycle)
With reinforced tubing joints in areas of high stress throughout the frame, the Bomber RS has been built to withstand even the toughest tests on the trail, in the backcountry and yet stay lightweight and agile. The Bomber's rear suspension provides improved ride quality, downhill speed control and improved traction uphill. The 24" wheels provide increased ground clearance, improved traction, increased speed, and a smoother ride. The replaceable derailleur hanger improves reliability on the trail and longevity for the frame when facing those close calls with rocks and logs.
ICE Full Fat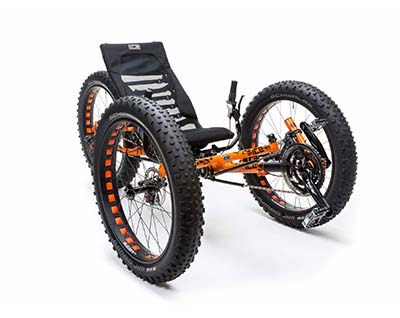 Manufacturer: Ice
Model: Full Fat
Estimated New Cost: $6,000
Population best served: motivated Individuals; (leg powered recumbent tadpole trike)
The manufacturer describes this trike as. "An expedition-tough trike, originally designed for record-setting, the Full Fat combines durability, reliability, and specialist features for conquering the most challenging terrain. Rough trails, sand, snow, and mud; if you pedal, it'll take you there." I agree, this bike is awesome
Glossary
Tandem bike- two wheel bike for two riders.
SCI- spinal cord injury
Recumbent tadpole trike- three wheel bike- 2 in front, 1 in back- rear wheel drive- rider is seated in a chair
E-assist- electrical power helps rider power the bike
Suspension- generally shocks on the frame that absorb bumps. Allow for a smoother ride
Recumbent tractor trike- three wheel bike– 1 in font, 2 in back- front wheel drive- rider is seated in a chair
Prone tadpole trike- three wheel bike- 2 in front, 1 in back- rear wheel drive- rider is positioned laying down on their chest, headfirst