Accessible Route of the Week: Lava Lands
New routes highlighted weekly.
by Hayley McClure
OAS Staff
If you're willing to take a short drive out of town, Lava Lands is a cool and quiet escape from the business of town on a warm summer day. Although the Visitor Center remains closed this season, rustic amenities remain open and access to the paved trails allows for cyclists and hikers to continue to explore the area. From lava fields that open up to sweeping views of the cascades, to breezy pine forests, this peaceful area is an awesome place to get your geology fix or cruise the paths for some much needed exercise!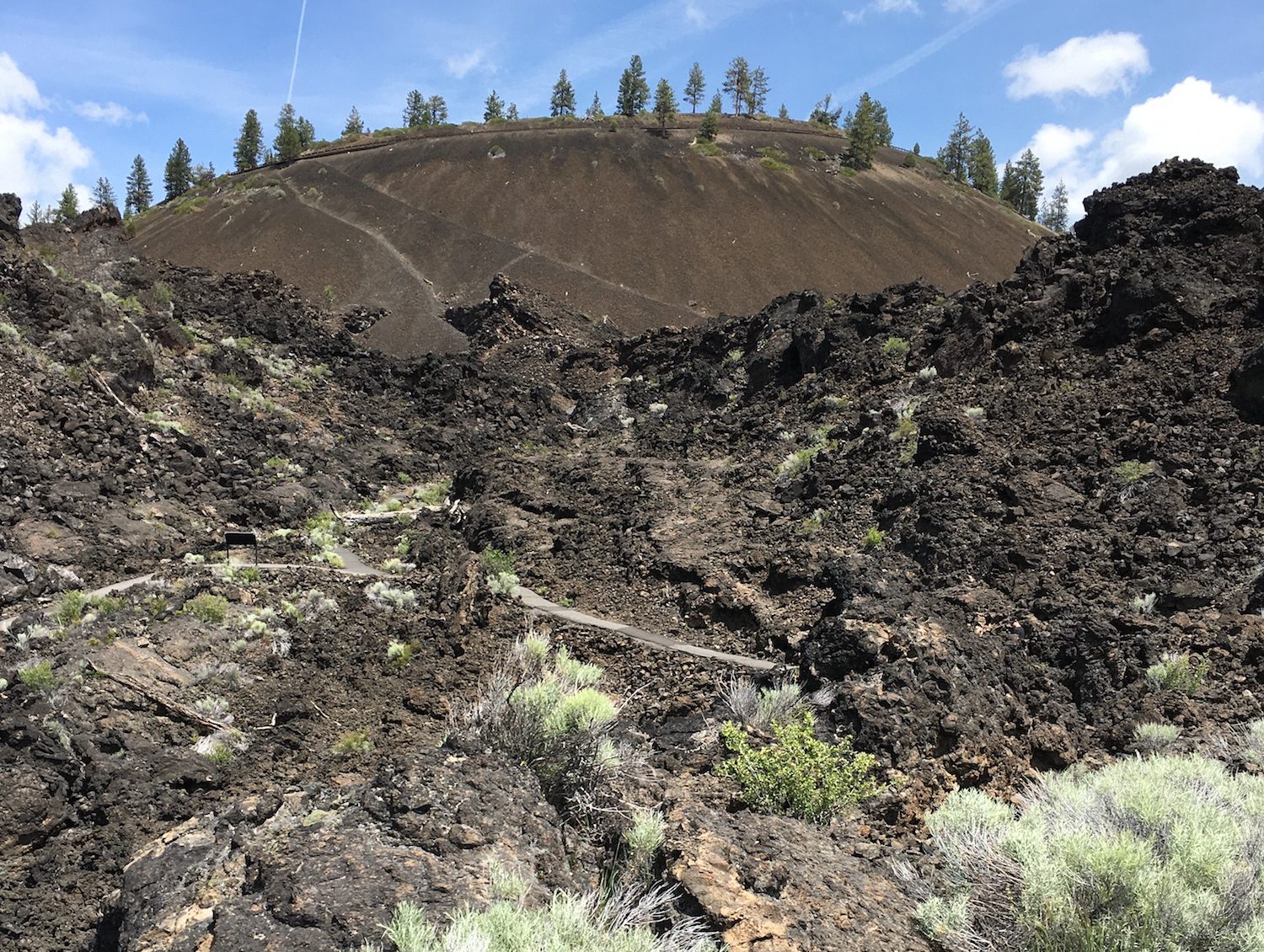 OAS ROUTE OF THE WEEK
Routes from Lava Lands Visitor Center:
ROUTE 1: The whispering Pines Trail and Trail of the Molten Land (open)
ROUTE 2: Sun-Lava Paved Route (open)
LOCATION
All paved trail routes from the Lava Lands Visitor Center (facility currently closed) can still be accessed from the overflow parking area (open for public use). Lava Lands is located 8 miles south of Bend on Highway 97 at 58201 US-97, Bend, OR 97702. 
The Sun-Lava Paved trail can also be accessed from the opposite end at the Benham East Trailhead. To get to Benham East T.H., take the same Lava Lands turn off on Hwy 97, and continue past the visitors center for 4 miles on road NF-9702. 
PARKING
At Lava Lands Visitor Center
The main parking area at the Lava Lands Visitor Center is currently gated off and closed for the season due to COVID-19. For alternative parking, continue past the main entrance and turn right into the Green Lot Parking area. Because this is typically overflow parking for the visitor center, there are no designated accessible parking spaces. The closest access point to the paved trails is located in the NW corner of the parking area. 
At Benham East Trailhead
An alternative option to access the Sun-Lava Paved Trail is to park at the Benham East Trailhead. There is one accessible parking space available at this packed-gravel parking area and trailhead. 
AMENITIES 
At Lava Lands Visitor Center
Portable ADA restroom
Benches along paved trail
Accessible viewing lookouts
No water available, bring your own supply
At Benham East Trailhead (alternative access for Sun-Lava Paved Path)
1 ADA Parking space
Restrooms: Year round, pit toilet. Maintenance and cleaning temporarily less than usual due to reduced COVID-19 Forest Service schedules
Rustic Picnic area 
Boat Ramp takeout and water access (NO downstream travel – Benham Falls below)
No water available, bring your own supply
PUBLIC TRANSPORTATION
There is no public transportation to this trailhead, as it is outside of Bend city limits. People wishing to visit this trail will need to provide their own transportation. 
TRAIL MAP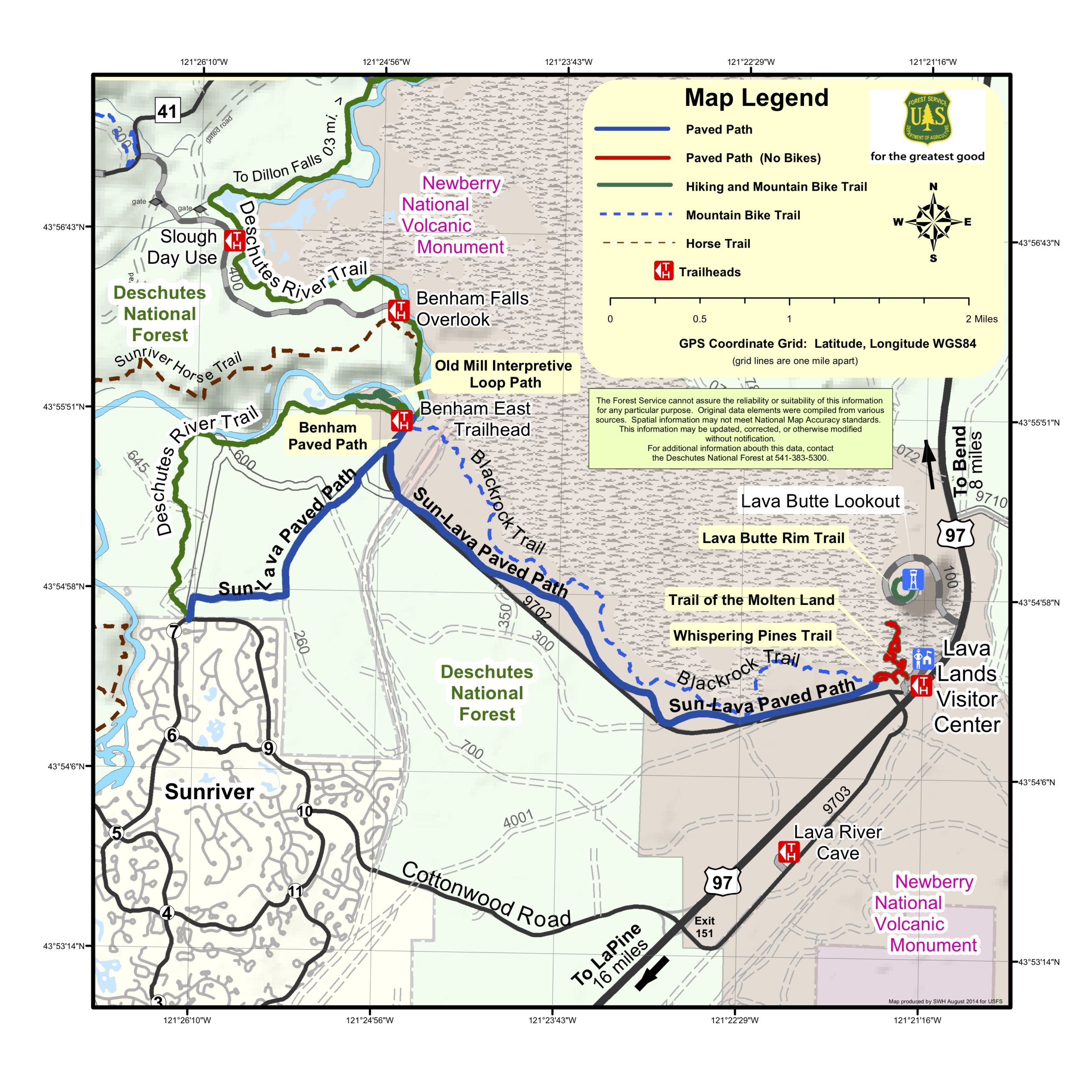 For more information and future trip planning to Lava Lands, Visit the following Forest Service sites: 
Keep in mind that the main facilities and services are currently closed. The featured trails are all that are open at this time. 
FACILITY CONTACT INFO
Deschutes National Forest 
36095 Deschutes Market Road
Bend, OR 97701
(541) 383-5300
TRAIL DESCRIPTION
ROUTE 1: Whispering Pines Trail and Trail of Molten Land
The Whispering Pines paved trail offers a cool stroll through a ponderosa forest, with historic interpretation of the area and interesting perspective of the adjacent lava flow. For about .3 miles, the 8ft wide path meanders from the Green Lot Parking Area toward the Visitors Center and connects to the Trail of Molten Land.
The Trail of Molten Land is another paved hiking trail that ascends up another .3 miles into an expansive and unworldly lava flow at the base of Lava Butte. This paved trail narrows slightly to about 4ft wide as it climbs up into the field and reveals an amazing view of the Cascade Range. Interpretive signs tell a story of the area's geologic formation and a few hardy species of vegetation survive across a sea of rock. 
ROUTE 2: Sun-Lava Paved Route
This is a great cycling route for those looking to do a little more mileage. Starting from the Lava Lands Visitor Center, the wide paved trail cruises slowly downhill along a black lava field and through the ponderosa pines. Over the course of approximately 3.8 miles, the path descends about 350ft as it heads toward the Deschutes River and away from Highway 97. Along the way, keep an eye out for ground squirrels and lizards stirring throughout the brush. Also, listen for the whispering pines, as a gentle breeze moves through the peaceful forest. Most users enjoy this trail for a leisurely bike ride or walk with their dogs. With rolling and sustained grades between 1-5%, it does take more consistent effort on the return ride back. The Benham Falls wooden footbridge marks the end of the Sun-Lava pavement and turnaround spot. Before heading back enjoy a cool breeze from the foot bridge over the Deschutes River.
If you are looking for a reward at the end of your ride, try starting at the Benham East Trailhead.  From Benham East, take the 4ft wide packed gravel path along the Deschutes River to connect to the paved Sun-Lava Path. At the intersection, take a right away from the river and gradually climb the path uphill toward the Lava Lands Visitor center and enjoy a low effort cruise on the way back down.
TRAIL RATING
ROUTE 1: Whispering Pines Trail (Easy) and Trail of the Molten Land (Moderate)
The Whispering Pines Trail is a wide, paved, relatively flat trail with some short slopes up to 3% grade. The .3 mile trail is mostly shaded and offers 2 resting benches for taking in the surrounding forest. 
The Trail of the Molten Land is a little more difficult as it ascends .3 more miles up into the Lava Field. The paved trail narrows to about 4ft wide as it climbs to periodic viewing areas along the path. About 700 ft into the trail, the trail splits. Continue on the right path to remain on the more accessible portion of the trail. After the split, the trail continues upward along a sustained 5% grade for another 800 ft to a large viewpoint. This is the end of the accessible portion of trail. People using a mobility device may need assistance getting to this view point. 
Caution: Rough, narrow, and very steep pavement continues through the lava field, and is not recommended for people using a mobility device. 
ROUTE 2: Sun-Lava Paved Route (Easy to Moderate for Cycling)
The 7.6 mile, out and back path is smooth, wide, and gently sloped downhill from the Lava Lands Visitor Center to the Benham East Trailhead and foot bridge. Sustained grades vary between 1-5%. Although there are no notable short steep slopes, the return ride back to the Lava Lands is a sustained gradual uphill ride, and does require some effort. The easiest way to experience the entire trail is by cycling, but it is also enjoyable by foot or mobility device depending on how far you plan to travel. Approximately 2.5 miles going downhill, the paved trail briefly merges with road NF-9702 in order to cross a set of railroad tracks, then splits again once past the tracks. The Benham Falls wooden footbridge marks the 3.8 mile marker and halfway point of the Sun-Lava trail.
TRAIL ELEMENTS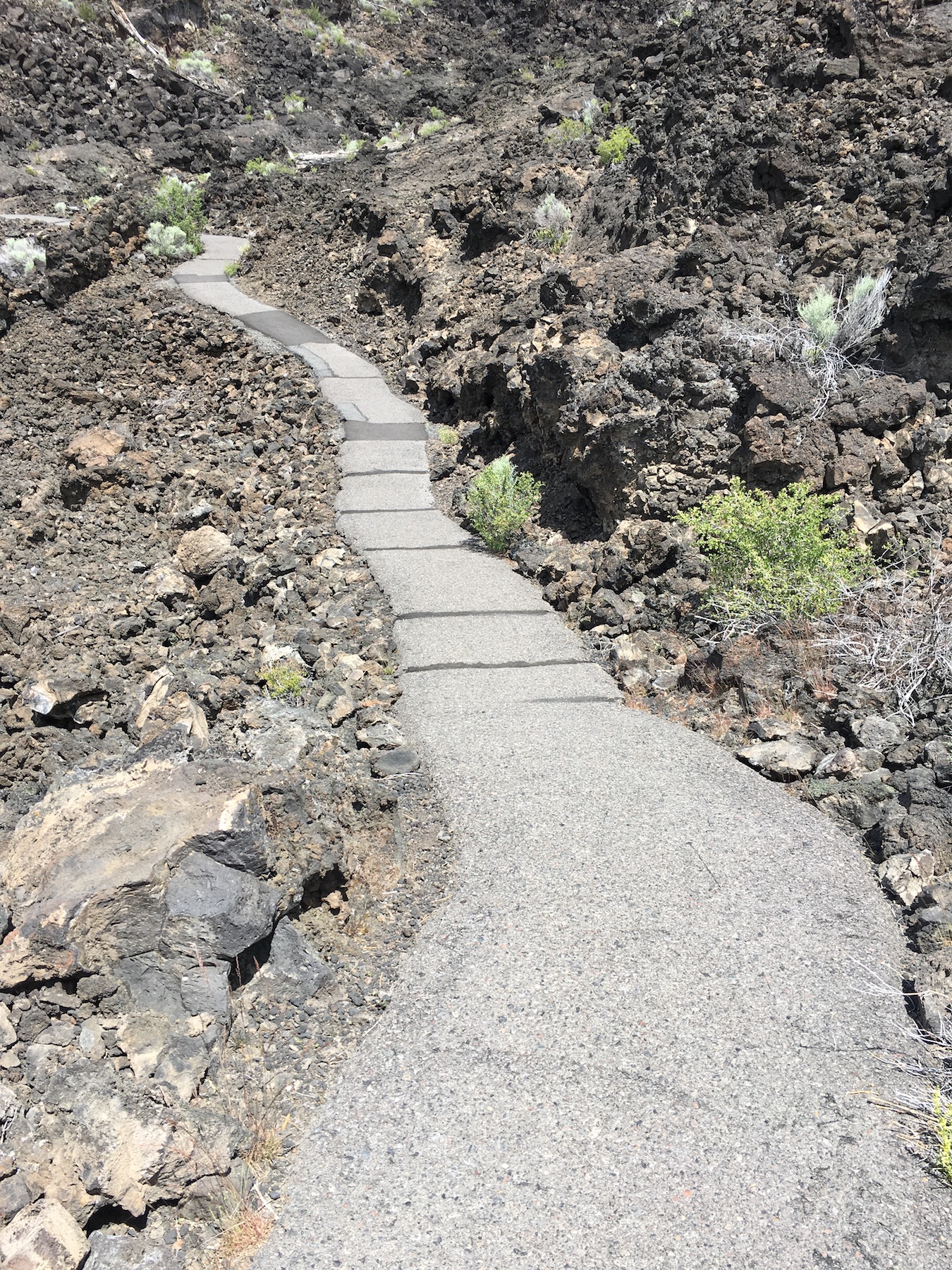 ROUTE 1: Whispering Pines Trail and Trail of the Molten Land
Surface: Asphalt/pavement
Width: Width of trail varies between 4ft and 8ft
Grade: Begins partially flat with some rolling grades up to 3%. Steeper grades up to 4-5% getting up and into the Lava Field
Cross Slope: Mostly even with cross slopes less than 2%
Distance:

Whispering pines: .3 miles one way
Trail of the Molten Land: .3 miles one way
Round trip: up to 1.2 miles from parking area to second view point on Molten Land Trail and back. 

Obstacles: Beyond the accessible portion of the Molton Land trail, rough pavement continues. Trail narrows to about 2 ft wide, and steep slopes up to 10% make navigation difficult for some users. Proceed with caution. This area is not considered accessible for all. 
ROUTE 2: Sun-Lava Paved Path
Surface: Majority is smooth asphalt. Packed gravel @ Benham East TH Parking area and short connection path.
Width: 10ft wide asphalt path. 4ft wide packed gravel connection path if parking @ Benham East TH.
Grade: Slightly downhill/uphill depending on which direction you are going. 2-5% sustained grade. 350ft of elevation gain/loss over 3.8 miles
Cross Slope: Mostly even with cross slopes less than 2%
Distance: 3.8 miles from Visitor Center to Benham East TH and foot bridge. 7.6 miles round trip, out and back
Obstacles: 

Pavement temporarily ends at mile 2.6 before crossing railroad. Watch for traffic.
Railroad crossing at mile 2.7, must cross 2 sets of train tracks before rejoining the bike path again.
Vehicle traffic barrier posts where bike path begins after railroad crossing. 3 – 5 ft spaces allow for foot and cycling traffic to pass through. 
ITEMS TO NOTE
Dogs are welcome on leash!
There is no running water, bring your own supply.
Amenities are rustic. Plan ahead and consider bringing your own sanitation supplies.
Please practice social distancing while using the trails. 
ADDITIONAL ROUTES ON THE THRIVE GUIDE
Tumalo Creek Trail @ Shevlin Park
Thanks to the work of Access Recreation, based in Portland OR, we've adopted their guidelines to describe our suggested routes, so that you have the information you need to make an informed decision. To learn more about Access Recreation and accessible trails in the Portland area, click HERE! 
Disclaimer: Please practice social distancing while out on trails and paths. Please note, this content was designed for informational purposes and to help you determine if this route is best for you. Please, USE THIS INFORMATION AT YOUR OWN RISK. You are responsible for your own safety and knowing your own fitness levels. Oregon Adaptive Sports is not liable for any injuries as a result of visiting and using these suggested routes.