Accessible Route of the Week: Central Oregon Historic Canal Trail
New routes highlighted weekly.
by Hayley McClure
OAS Staff
The Central Oregon Historic Canal Trail is an interesting connection that carves through the south side of town along a fully operating irrigation canal. In the heat of summer, the waterside path offers a cool and shady option for a leisurely bike ride or walk.
I originally set out excited to share this relatively wide and even grade path, however soon realized how difficult it was to actually access this trail. This path may not be for all users, but may still be approachable for some. Using the recommended access points, this route would be best for those who do not require amenities, are cycling, can travel longer distances, or are open to doing shorter, exploratory trail portions. Check out the details to see if this trail is right for you!

OAS ROUTE OF THE WEEK
Central Oregon Historic Canal Trail
FACILITIES AND LOCATION
There is not one optimal location directly connected to this trail, however one official and one unofficial access point offer a couple different options for experiencing this historic route. The following locations are the more accessible options for accessing the Canal Trail:
A) Blakely Park – Designated facility, parking, and access point to the Historic Canal Trail located @ 1155 Brookswood Blvd, Bend, OR 97702
Pros: Facilities include accessible restrooms, parking, and amenities
Cons: Requires traveling along Brookswood and then over a rougher, coarse gravel road before connecting with the official Canal Trail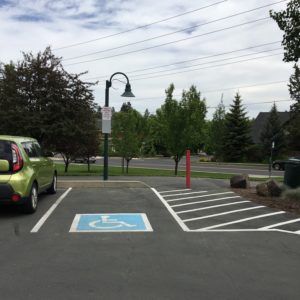 B) Blakely Road Access – Click HERE for Directions to nearest street parking and Google Street View
Pros: Quiet, low traffic side-street parking with direct access to Canal Trail
Cons: No public facilities or amenities 
PARKING
@ Blakely Park
There is 1 Van Accessible parking space at Blakely Park. To access the Canal Trail from the parking area, visitors must leave the park and travel approximately 100yrds South, up Brookswood Blvd to the Green Gate – See trail description below for more detail.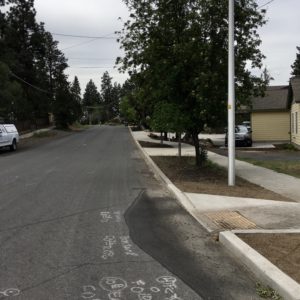 Street parking on Blakely Rd
This quiet street parking location is tucked away from busy roads in a low traffic area. Park anywhere around the 3-way intersection of Reed Ln & Blakey Rd and take the road (not sidewalk) across the small canal bridge (approx. 30ft) directly onto the Canal trail. From this access point you can either go east (more urban) or west (more natural) along the canal route.
AMENITIES – ONLY AT BLAKELY PARK
ADA Parking, 1 van accessible space
ADA restrooms, 2 year round*
Picnic area adjacent to restrooms and playground, 2 ADA tables*
Play structure (currently closed due to Social Distancing orders)*
Drinking water* – currently shut off
* All amenities are located approx. 150ft down a long gradual path (3.5% grade) from the parking area.
PUBLIC TRANSPORTATION
To Blakely Park:
Take East Cascade's Transit – Route 2 to the Brookswood @ McClean West stop. This will place you at Blakely Park. Visit Cascades East Transit's  website for route schedules and trip planning. Note: Due to Covid 19, route restrictions, riding precautions, and alternative schedules may apply. Make sure to double check their website before venturing out. 
TRAIL MAP
For more information, visit The Historic Central Oregon Canal Trail on Bend Parks and Rec.'s site: https://www.bendparksandrec.org/trail/central-oregon-historic-canal-trail/

FACILITY CONTACT INFO
Bend Parks and Rec at the District office: (541) 389-7275
TRAIL DESCRIPTION
The Central Oregon Historic Canal Trail runs along an irrigation canal offering a cooler option in the heat of the summer along the open water. The route covers a lot of ground as it carves 4 miles through the south end of town through a mix of urban, residential, municipal, and natural areas. From east to west, the path begins relatively flat and wide along the canal through urban and residential neighborhoods, with some steeper grades up to 8% as it underpasses Hwy 97 and Brookswood Blvd. West of Brookswood, the canal becomes piped underground, and the trail continues flat and wide through the Central Oregon Irrigation District (COID). Past the open and undeveloped COID, the trail begins to gradually descend towards the Deschutes River through a forested natural area and eventually meets up with the Deschutes River Canyon Trail. 
ROUTE OPTIONS & RATINGS
Route from Blakely Park – Moderate to Difficult
From Blakely Park, head south (uphill @ 3% grade) on Brookswood Blvd using the sidewalk. Go past McClean Rd, about 320ft until you reach the green gate. Take a right through the green gate to catch the canal connection trail. This cool, shady, packed gravel path meanders between a smaller canal and residential neighborhood for .3 miles until it merges with the gravel Irrigation District Road. This wide, coarse gravel road opens up to a large undeveloped area and recreation crossroads. Continue straight on the gravel road for .3 miles until you reach the upper Historic Canal Trail. From the green gate, the designated path is relatively flat and level. As the gravel road approaches the official Historic Canal Trail, the grade increases to about 7% on coarse gravel before reaching the flat, crushed gravel path. Once on the canal path, head east toward Brookswood Blvd for a flat, wide open canal experience. Or head west along the rolling, wide path as it gradually descends through a forested area, with long sustained grades between 2-8% to the Deschutes River. WARNING:  For people using a mobility device, it is not recommended to go all the way to the Deschutes River Canyon Trail. The path becomes EXTREMELY STEEP in the last 50 feet and would be difficult to control devices on the 20% grade. TURN AROUND BEFORE TRAIL MERGE
This route begins moderately as it meanders through the connection trail and increases in difficulty once it reaches the coarse gravel road. The initial .6 mile reach before connecting with the main trail may deter some users. For quicker access to the Historic Canal Trail, begin from Blakely Rd – see below. 
TRAIL ELEMENTS
Surface: Combination of brick and pavement (Park grounds), cement sidewalk (Brookswood Blvd), hard packed fine dirt and gravel (connecting path), coarse gravel (irrigation road), crushed packed gravel (main path)
Width: Width of trail varies between 4ft sidewalks, 5 ft footpath, 10ft trail, and 12ft gravel roads
Grade: Mostly rolling grades between 2-8%, some long, flat and open areas. Slopes up to 8% grade. Longer, sustained climbs approx 6-7% grade
Cross Slope: Mostly even with some cross slopes up to 3%
Distances: From Green Gate: .6 miles to Historic Canal Trail, 1.2 miles to west end of trail and Deschutes River Trail. TURN AROUND BEFORE TRAIL MERGE due to EXTREME GRADES, 1.1 miles to Brookswood Underpass
Obstacles: Gate with 5ft opening, Pine cones, coarse gravel, surface transitions, DANGEROUS SLOPE AT END OF TRAIL
Routes from Blakely Road – Moderate
Heading east from Blakely Rd, the Canal Trail follows a wide, packed gravel trail that is directly adjacent to the open canal. Vegetation becomes more lush as the path travels through the old farm district along Reed Market Rd. Canadian geese and mallards find refuge in the cool, rushing canal waters. The path is mostly flat except for the underpass at highway 97 where grades reach 7-8%. Newly completed construction on 3rd street offers a visible crosswalk with flashing lights and for a safe pedestrian crossing for Canal Trail Users. The second crossing at Brosterhous could use some improvements. A developed crosswalk exists, but requires a slight detour through the Townes Pump Gas station for safe crossing. The canal path continues all the way to the east side of town and ends at American Lane for a good turnaround point. Please use caution at the 3rd street and Brosterhous intersections. Also, there is no barrier or fencing between the path and the swift irrigation canal. 
Heading west from Blakely Rd, the Canal Trail is flat and wide with the exception of the Brookswood Underpass with a steep 7% slope. After the underpass, the crushed gravel path continues wide and flat for .6 miles, then starts to gradually descend toward the Deschutes River Trail, rolling between 2-8% grades. The Canal trail ends once it reaches the Deschutes River Trail. WARNING:  For people using a mobility device, it is not recommended to go all the way to the Deschutes River Canyon Trail. The path becomes EXTREMELY STEEP in the last 50 feet and would be difficult to control devices on the 20% grade. TURN AROUND BEFORE TRAIL MERGE
TRAIL ELEMENTS
Surface: Crushed, packed gravel on main trail. Asphalt at underpasses.   cement sidewalk at street crossings
Width: Width of trail varies between 4ft sidewalks and 10ft paths
Grade: partially flat with some longer climbs. Slopes up to 8% grade in some places. Longer climbs with approx 7%  grade closer to the Deschutes River Canyon, and at underpasses
Cross Slope: Mostly 2% and less with one eastbound cross slope at 4 %
Distances: From Blakely Road: 1.6 miles east to end of route on American Lane, 1 mile west to turn around point before merging with Deschutes River Trail
Obstacles: 

Irrigation gates with 5ft openings.
Street crossing @ Brosterhous going eastbound requires a short detour from canal to make a safe street crossing.  The trail to sidewalk transition is not clean and is bumpy.
5% cross slope, and slight break in trail at private bridge along Reed Market Rd, approx 1 mile east from Blakely Rd
OBSTACLES + DANGEROUS SLOPE
ITEMS TO NOTE
Practice social distancing while out on trails and paths, and follow all rules posted at parks and paths. 
Dogs are allowed on leash in all areas
Plan and prepare for restroom and water needs
Bring your own water and stay hydrated!
People using a mobility device may need assistance from all access points to this trail
Remember, only go as far as you are comfortable. This would be a great trail to invite a family member or friend
USE CAUTION along the open canal when it is running. There are no protected barriers and the water can be swift! 
Stay safe and have fun!
ADDITIONAL ROUTES ON THE THRIVE GUIDE
Tumalo Creek Trail @ Shevlin Park
Thanks to the work of Access Recreation, based in Portland OR, we've adopted their guidelines to describe our suggested routes, so that you have the information you need to make an informed decision. To learn more about Access Recreation and accessible trails in the Portland area, click HERE! 
Disclaimer: Please practice social distancing while out on trails and paths. Please note, this content was designed for informational purposes and to help you determine if this route is best for you. Please, USE THIS INFORMATION AT YOUR OWN RISK. You are responsible for your own safety and knowing your own fitness levels. Oregon Adaptive Sports is not liable for any injuries as a result of visiting and using these suggested routes.