Accessible Route of the Week: Loops from McKay Park
New routes highlighted weekly.
by Hayley McClure
OAS Staff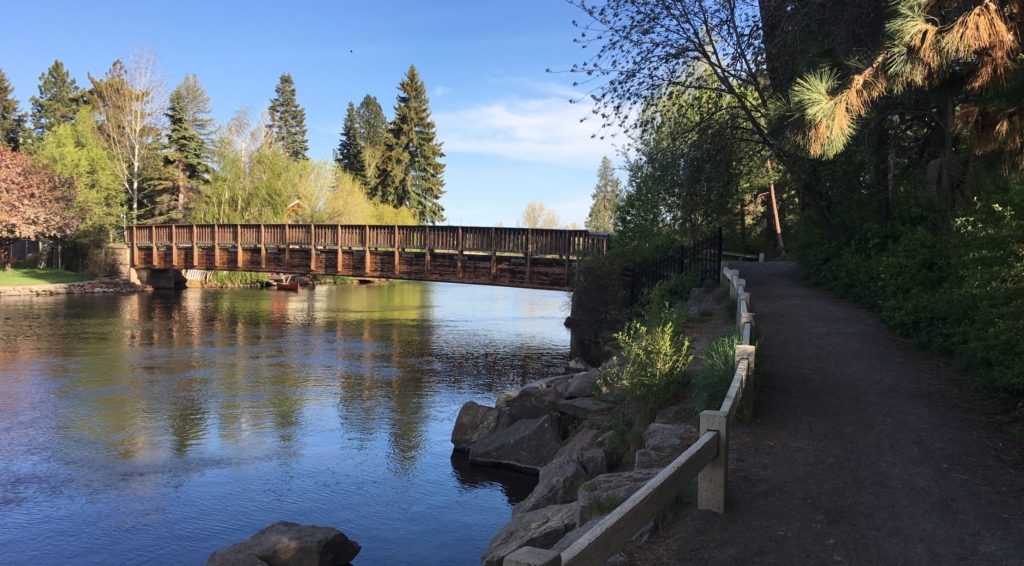 If you live on the west side of town or near the Old Mill, this route may already be part of your daily routine, I know it's part of mine. But despite its popularity, it still remains one of my favorite routes around town. Since the beginning of the shutdown, I have walked some variation of this route daily, and each time am reminded again and again why I make Bend home. This path offers the liveliest experience of Bend's urban life as well as some of the best wildlife viewing in town. From osprey to beaver, surfers to river otter, this stretch of river is alive! If this trail is part of your regular repertoire, try mixing it up with a different variation. I'll bet you'll find something new or see a new perspective. I hope you enjoy it as much as I do! 
OAS ROUTE OF THE WEEK
Deschutes River Loops from McKay Park
Loop 1 – McKay Park Old Mill Loop 
Loop 2 – Mckay Park to Columbia Park loop
LOCATION BREAKDOWN
There are many variations of the Deschutes River trail. These particular routes begin and end at McKay Park. 
FACILITY
Mckay Park is a recently updated, medium sized, urban riverfront park along the Deschutes River, offering a sandy beach, easy river access for water sports, and lots of open green space for picnicking. It is located at 166 Southwest Shevlin Hixon Drive, Bend, OR. 
PARKING ACCOMMODATIONS 
Parking is limited and can be slim pickings during the heat of the day. There are two ADA parking spaces available at McKay Park, one of which is van accessible. Street parking is also available as an alternative.
AMENITIES @ McKay Park
Picnicking areas adjacent to sandy beach on concrete, and in park on grass, with a total of 2 accessible tables
Sandy beach and river access to calm water for swimming
accessible river access ramp, allowing for easy transition to water without having to go through deep sand.
ADA parking, 2 total
ADA restrooms, 4 total
4 curb cuts or curb ramps
Packed gravel trail that accesses nature viewing area
PUBLIC TRANSPORTATION
Cascade East Transit's closest route is the Colorado Route 10. This is a weekday only route that frequents once per hour. The closest drop off location to McKay Park is the Colorado @ Simpson stop, recognized most by its proximity to the Deschutes Brewery tasting room. From this but stop location, follow the sidewalk north toward the roundabout and Colorado Bridge. Use the crosswalks to make your way to the Pavillion side of the street on Colorado. Begin toward the Colorado bridge by sidewalk. Take the short paved ramp to the left before the bridge to connect to McKay Park and Deschutes River Trail loop.
TRAIL MAP
Loop 1-  McKay Park to Old Mill: Click here for link to google map file
Loop 2 – McKay Park to Columbia Park: Click here for link to google map file
Combine to create a figure eight!
Additional Maps and references: 
FACILITY CONTACT INFO
District office (during business hours) –  (541) 389-7275
Juniper Swim and Fitness (after business hours) – (541) 389-7665
Park Services (for maintenance notifications)  – (541) 388-5435
TRAIL DESCRIPTION
This urban portion of the Deschutes river trail is a popular spot for dog walkers, runners, and leisure cyclists.
Loop 1 – McKay Park Old Mill Loop 
A 1.5 miles, greenway loop that runs adjacent to the Deschutes river, offering wetland wildlife viewing, historic interpretation of the Old Mill, panoramic views of the cascades, two large footbridges, and a whitewater park where you can watch surfers catch a wave. This paved pathway is relatively flat with grades up to 8% for paved footbridge crossing and tunnels.  
Along the trail you may see and hear migrating birds. Keep an eye out for river and otter activity along the shoreline. During peak hours, this trail is busy. Follow the rules of the road and be aware that many people travel this path at various speeds. 
From McKay park, start by following the sidewalk upstream toward the restroom facility and through the Colorado Rd. underpass and head toward the amphitheatre. Take the footbridge toward the Old Mill Shopping area to loop back on the other side of the river. Once you pass through the colorfully painted tunnel, take a left and loop back to McKay Park via the Colorado footbridge, or continue straight to Miller's landing for Loop 2!
Loop 2 – Mckay Park to Columbia Park loop
This 1 mile Loop takes you alongside a river restoration area with views of wildlife and the whitewater park. It is a lively area that meanders through open green spaces and intimate residential areas. A small wooden foot bridge may present some challenges. Persons using a mobility device may need assistance. Keep your eyes and ears peeled for Osprey sightings along the restoration corridor. There are three rest areas with benches along this loop.
From McKay Park, begin by crossing the Colorado footbridge, and head downstream toward Miller's landing.  You will come to the end of the cobblestone path and venture briefly into the riverfront neighborhood before taking an immediate left toward the Columbia footbridge, a small wooden footbridge connecting to Columbia Park. Follow the paved trail up through Columbia Park to Allen St., and continue straight. From Allen St, there are no sidewalks for two blocks. The river trail sign will point you to a set of stairs on the left back to McKay Park. For a more accessible route, bypass the stairs, continue straight on Allen St. as it curves and take the next left on Shevlin Hixon Dr back down to Mckay Park.
TRAIL RATING
Loop 1 – McKay Park Old Mill Loop: Easy to Moderate 
This unobstructed loop is flat and fully paved with a combination of cement and asphalt. The path is wide and easy to navigate. There are a few opportunities to rest halfway at bench areas in the Old Mill. There are some steeper grades at the bridge crossings and underpasses. People using a mobility device may need some assistance in these areas.
Loop 2 – Mckay Park to Columbia Park loop: Moderate to difficult
This loop is rated a little more difficult because of its myriad of surfaces and street navigation. A wooden footbridge and slopes up to 10% can create some difficulty for people using a mobility device and may need assistance through these areas. Visibility is low in areas with no sidewalk.
TRAIL ELEMENTS
Loop 1 – McKay Park Old Mill Loop
Surface: Cement, asphalt
Width: Minimum 9ft wide sidewalk, path ranging from 9ft to 20ft +
Grade: Mostly flat with grades up to 8% for bridge crossings
Cross Slope: Even, flat pavement with less than 2% cross slope
Distances: 1.5 mile loop from McKay Park to Old Mill and back
Obstacles: Some small cracks in path near Old Mill, but seem frequently maintained. During peak hours and peak seasons, there are a lot of people on this path to navigate through. 
Loop 2 – Mckay Park to Columbia Park loop
Surface: Asphalt, cement, laid brick, packed gravel, wood
Width: Minimum 4ft wide sidewalk, 6ft wide foot bridge, up to 9ft wide path. 
Grade: Combination of flat terrain and both short and longer steep grades. Begins with 8% grade to cross Colorado footbridge, flat through Miller's landing, short grades up to 10% to cross Columbia footbridge, and longer grade on Shevlin Hixon Dr. back to McKay Park
Cross Slope: Even, flat pavement, gravel, and brick with less than 2% cross slope
Distances: 1 mile loop from McKay Park to Columbia Park and back. 
Obstacles: 2 short areas with either no sidewalk or poorly maintained sidewalk, street access is best. Wooden bridge made with large, chunky pieces makes for a bumpy ride. A couple steep ramps from pavement to street and gravel to wooden bridge
ITEMS TO NOTE
During Peak hours the river trail can be crowded. For easy navigation and prime wildlife viewing, go early in the morning or in the evening. 
Accessible restrooms are located at McKay Park, the Old Mill, and Miller's Landing. 
Many Old Mill businesses are closed. Plan before you go. 
Practice social distancing while out on trails and paths, and follow temporary rules posted at all the parks and paths. 
CET's ROUTE 10 IS CURRENTLY ON HOLD
Additional Routes on the Thrive Guide
Tumalo Creek Trail @ Shevlin Park
Thanks to the work of Access Recreation, based in Portland OR, we've adopted their guidelines to describe our suggested routes, so that you have the information you need to make an informed decision. To learn more about Access Recreation and accessible trails in the Portland area, click HERE! 
Please note, this content was designed for informational purposes and to help you determine if this route is best for you. Please, USE THIS INFORMATION AT YOUR OWN RISK. You are responsible for your own safety and knowing your own fitness levels. Oregon Adaptive Sports is not liable for any injuries as a result of visiting and using these suggested routes.