Accessible Route of the Week: Tumalo Creek Trail @ Shevlin park
Routes to get you out and exploring!
by Hayley McClure
OAS Staff
There is a reason Shevlin Park remains a favorite natural area to many Bend locals. The variety of trails, the pristine blue waters of Tumalo Creek, and the lush, cool refuge at the bottom of the canyon are only a few. Wildlife is teeming along this stream corridor and if you pay attention, you may spot bald eagles, mule deer,  and trout from the popular trails. Whether you're going out for a stroll, bike ride, or simply to sit next to a babbling creek on a hot summer day, Shevlin Park is worth a visit!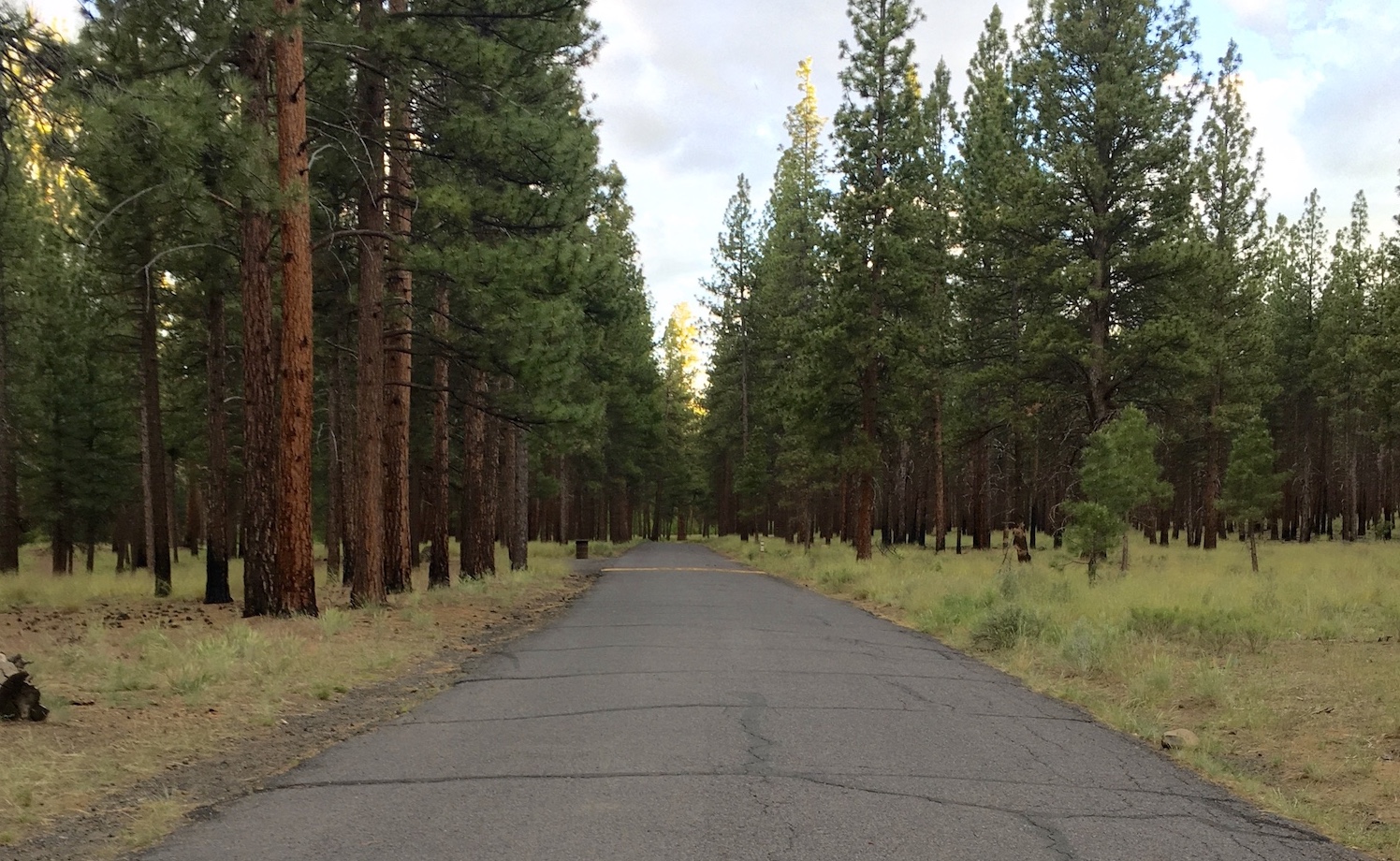 OAS ROUTE OF THE WEEK
Tumalo Creek Trail from Shevlin Park
LOCATION
Tumalo Creek Trail is accessed from Shevlin Park and is located at 18920 Northwest Shevlin Park Road, Bend, OR. There are a few parking options on either side of Shevlin Park Rd. For best access to the Tumalo Creek Trail, use the southern Aspen Meadows  parking lot. If parking in the north parking lot at Aspen Hall, use the underpass trail to connect with the main Tumalo Creek Trail. 
PARKING
Aspen Meadow Parking (South Parking Lot) – There are 2 ADA, van accessible parking spaces available at the most southern parking lot, next to the restrooms. 
Aspen Hall Parking (North Parking Lot) – There is no designated accessible parking at the entrance to Tumalo Creek trailhead here. There is Accessible parking closer to Aspen Hall and the Fishing pond. If parking at Aspen Hall Parking area, start at the North trailhead and use the underpass upstream to connect to the Tumalo Creek Trail. 
AMENITIES
@ Shevlin Park: Aspen Meadow Parking (South Parking Lot)
2 ADA, van accessible parking spaces
2 ADA Restrooms: pit toilet, year round
Large Covered Picnic area
Picnic tables and benches along Tumalo Creek
Water currently shut off, bring your own supply
PUBLIC TRANSPORTATION
There is currently no public transportation to this trailhead, as it is just outside Bend city limits. People wishing to visit this trail will need to provide their own transportation.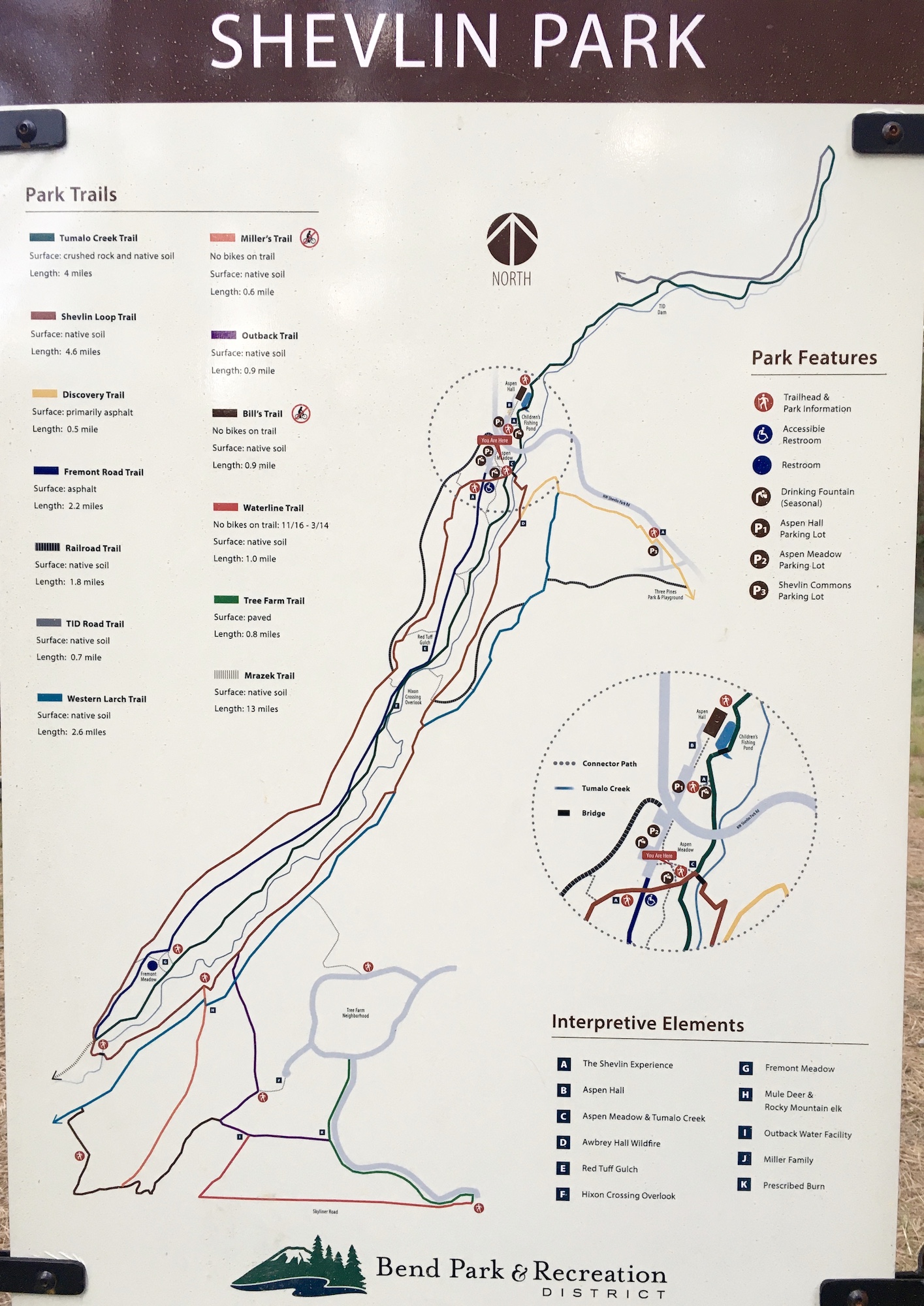 TRAIL MAP
For supplemental information, check out park, path, and map information from the Bend Parks and Rec's website.
FACILITY CONTACT INFO
Bend Parks and Recreation District
Park Services – (541) 388-5435
Juniper Swim and Fitness (after business hours) – (541) 389-7665
TRAIL DESCRIPTION
Alongside Tumalo Creek, Tumalo Creek Trail is the more accessible trail option for users, and is the central corridor at Shevlin Park. Surrounded by tall pines and water loving vegetation, this mostly flat, native soil trail offers a cool, lush oasis at the bottom of the canyon. From the southernmost parking area, the trail picks up past Aspen Meadow and the covered picnicking shelter. It begins at the water's edge and runs upstream approximately 2 miles along Tumalo Creek through the end of the park. This out and back trail can be made into a loop by connecting to the paved Fremont service road that also runs adjacent to Tumalo Creek and the Tumalo Creek Trail. For shorter loops, there are a few connection trails that cut to the Fremont road for a paved option directly back to the parking area. 
As the trail follows the creek, there are some interesting coves along the water way and tight passageways through thick vegetation. The trail itself varies in widths between 3.5ft and 10ft widths as it cuts through the vegetation. About 1.25 miles from the start of the trail, a wooden bridge crossing and picnicking area offer a good turnaround spot at Red Tuff Gulch. For a longer ride or hike, don't cross the footbridge, but merge onto Fremont road until the trail resumes and continue on another mile to Fremont Meadow. 
TRAIL RATING
Moderate. The Tumalo Creek Trail, though relatively flat, is fairly rustic in surface material and varies throughout the trail. For the most part, the surface composition is mostly packed soil and crushed gravel. There are some areas filled with deeper and larger gravel, up to an inch deep which may provide some difficulty for traction. Although there are no complete barriers on the trail, smooth embedded pebbles and a few avoidable and low profile roots can make for a bumpy ride. As the trail meanders next to the creek, there are some tighter constrictions between trees and vegetation that narrow the path, some areas as narrow as 3.5ft. There are some shorter, rolling inclines up to 4% grade, that take a little momentum to pass over, however overall there is little elevation gain/loss over the entire trail. Lastly, there are some areas where the cross slope is up to 3% grade and may provide a challenge. People using a mobility device may require assistance when navigating through these select areas. 
For a paved experience of Shevlin Park, you can forgo the Tumalo Creek Trail and instead follow the Fremont Service Rd. (closed to public traffic) from the Aspen Meadows Parking area all the way to Fremont Meadow picnic area. This option totals about 4 miles, out and back, of paved trail and travel.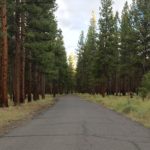 TRAIL ELEMENTS of Tumalo Creek Trail
Surface: Combination of native packed soil and crushed gravel
Width: Width of trail varies between 3.5ft and 10ft
Grade: Relatively flat, with short rolling slopes up to 4% grade
Cross Slope: varies between 2 – 3% cross slope
Distances: 

Approx 1.25 miles from Aspen Meadows parking area to Red Tuff Gulch and foot bridge turnaround, 2.5 miles out and back
Approx. 2 miles to Fremont Meadow, 4 miles out and back

Obstacles: 

Low profile roots and smooth stones. Avoidable by navigating around.
ITEMS TO NOTE
Dogs are allowed on-leash throughout the park.
Please follow social distancing while using the trail.
This is a multi user area. Cyclists yield to hikers and horses.
The mosquitos are out in full force! Consider packing repellent for your visit. 
Water is currently shut off, bring your own supply,
ADDITIONAL ROUTES ON THE THRIVE GUIDE
Tumalo Creek Trail @ Shevlin Park
Thanks to the work of Access Recreation, based in Portland OR, we've adopted their guidelines to describe our suggested routes, so that you have the information you need to make an informed decision. To learn more about Access Recreation and accessible trails in the Portland area, click HERE! 
Disclaimer: Please practice social distancing while out on trails and paths. Please note, this content was designed for informational purposes and to help you determine if this route is best for you. Please, USE THIS INFORMATION AT YOUR OWN RISK. You are responsible for your own safety and knowing your own fitness levels. Oregon Adaptive Sports is not liable for any injuries as a result of visiting and using these suggested routes.