Accessible Route of the Week: Dry Canyon Trail
New routes highlighted weekly.
by Hayley McClure
OAS Staff
In this week's highlighted route we ventured outside of Bend to explore one of Central Oregon's coolest developments located in Redmond, OR. The Dry Canyon Trail, a large natural feature that carves through the center of Redmond, has been transformed to provide a variety of recreation opportunities for the residents of Redmond and surrounding communities. The canyon corridor offers a connected trail from one end of town to the other, and all along the way are a variety of parks developed for team sports, pets, disc golf, music, nature viewing and more. With the rest of town above the canyon cliffs, the canyon floor offers miles of open green space and outdoor recreation accessible for all to explore.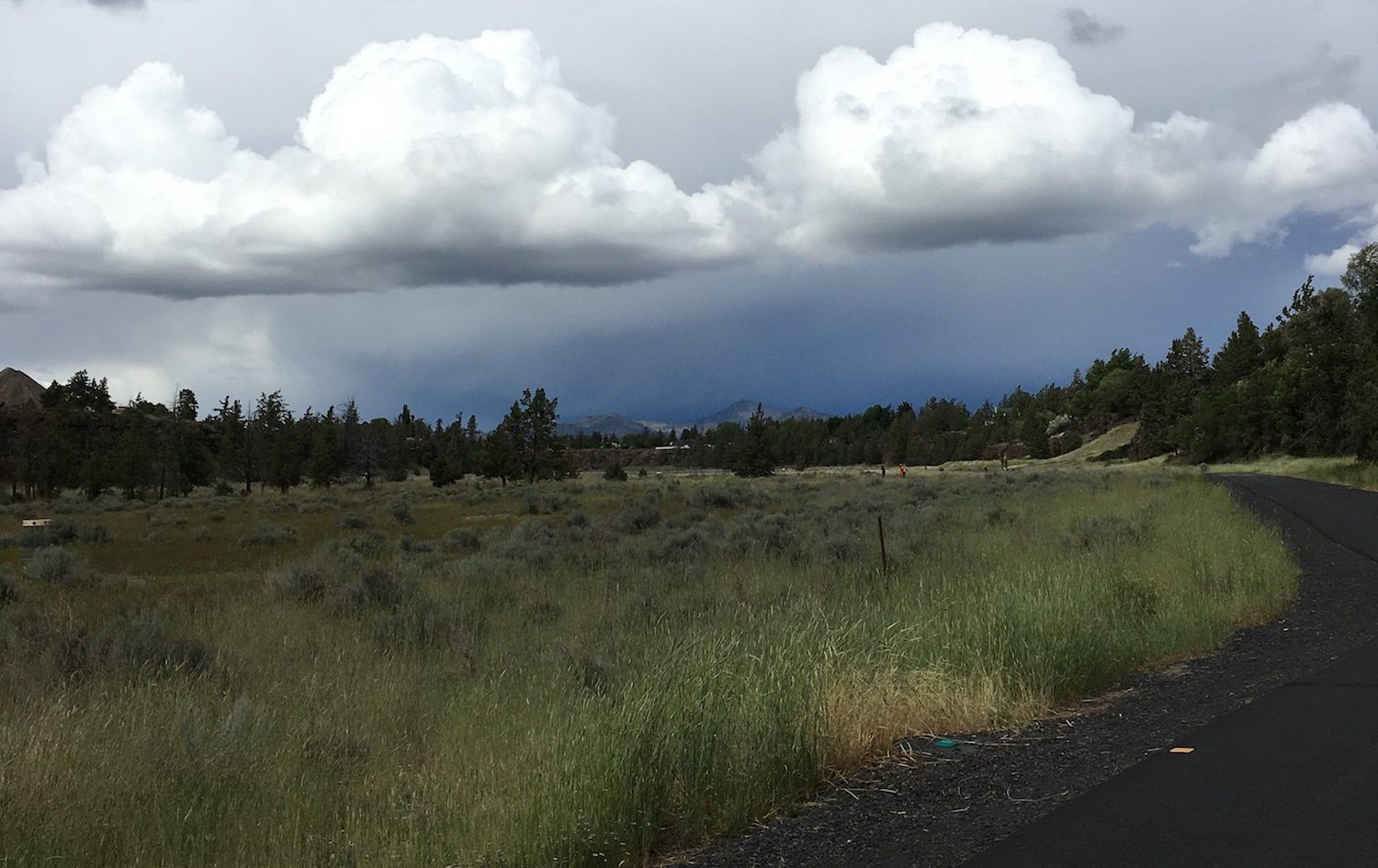 OAS ROUTE OF THE WEEK
Dry Canyon Trail – Redmond, OR
LOCATION
Dry Canyon Trail is centrally located in Redmond. There are many access points to hop on this 3.8 mile trail. The most accessible parks and locations to access the Dry Canyon Trail are:
American Legion Park – 850 SW Rimrock Way, Redmond, OR 97756
Sam Johnson Park –  333 SW 15th St, Redmond, OR 97756
Antler Avenue and Crossing Access point – 1429 W Antler Ave, Redmond, OR 97756
PARKING
American Legion Park: 4 ADA spaces, 2 Van Accessible
Sam Johnson Park: 4 ADA spaces, 2 Van Accessible
Antler Avenue and Crossing Access Point: 4 ADA, 2 Van Accessible
AMENITIES 
American Legion Park
2 ADA restrooms 10 feet from parking
ADA Parking
Amphitheater – covered area with picnic tables
Water (currently shut off)
Sam Johnson Park
2 ADA restroom, 10 – 20 feet from parking
ADA Parking
Accessible playground – Hope Playground
Park Benches
Water (currently shut off)
Antler Avenue and Crossing Access Point
1 ADA portable restrooms
ADA Parking
Dog park with sitting benches
Interpretation of wildlife and geology – ¼ mile north of access point
PUBLIC TRANSPORTATION
Cascade East Transit does not offer regular bus routes throughout Redmond. To coordinate a ride to the Dry Canyon Trail, contact CET's Rural Dial-a-Ride in Redmond to plan your next trip. Follow this link for more information on Redmond Dial-a-Ride and scheduling: 
https://cascadeseasttransit.com/routes-schedules/all-cities/redmond/
NOTE: Redmond's Rural Dial-a-ride is only available Monday through Friday from 5:30am – 7:00pm. 
TRAIL MAP
Trail information and signage is available periodically throughout the canyon at various entrance points, showcasing mileage, parks, and special features. For distances between parks and features, check out the link below. Zoom in on the map to see the layout of parks, access points, and special features:  https://www.redmondoregon.gov/home/showdocument?id=3112
FACILITY CONTACT INFO
For park and facility information – Redmond Area Park and Recreation District (RAPRD) District Office: 541-548-7275
To report non-emergency situations contact the public works department at 541-504-2000
TRAIL DESCRIPTION
The Dry Canyon Trail carves through the heart of Redmond and stretches almost 4 miles long, connecting sports fields, parks, and wildlife areas, all in the depths of an ancient canyon. Although the feel of the trail transitions in and out of well manicured parks and juniper sagebrush wild lands, the paved trail itself remains consistently wide, smooth, and relatively flat from start to finish. The southern end of the Dry Canyon trail is a little more developed with parks, playgrounds, an amphitheatre, and sports fields, while the northern half of the trail has been left as natural habitat for the variety of high desert species that roam through the corridor. Developed parks offer shady opportunities, while the natural sagebrush area feels a little more exposed on a warm day. With numerous entries and access points, there are restrooms, picnic areas, and water refill stations all throughout the trail. 
About halfway through the trail, at the Antler Ave Access Point, there is an off leash dog park, with separate areas for small and large dogs. At the most northern reach of the trail you will smell your turnaround spot as the end of the trail is marked by a wastewater treatment facility. Interpretive kiosks explain the interesting processes and use of Redmond's wastewater. Whether you decide to cycle or stroll, this out and back trail offers up to almost 8 miles of paved terrain. 
TRAIL RATING – Easy
There is no mandatory mileage for the Dry Canyon Trail, simply go as far as you desire to explore. The majority of the wide, paved trail is flat with rolling grades between 1% and 4%. The only areas of relatively higher grade are the underpass about 1 mile from the southern entrance and the turnaround loop at the wastewater treatment facility at mile 3.8. These shorter sustained slopes are about 4-5% grade.
TRAIL ELEMENTS
Surface: paved asphalt 
Width: 10ft, with an additional 3ft gravel shoulder on both sides
Grade: mostly flat grades between 1-3% with some shorter climbs up to 5%. 
Cross Slope: even, with little to no cross slope
Distances: From Quartz ave on the south entrance to the North trailhead next to the wastewater treatment center: 3.8 miles total one way. 
Obstacles: street crossing at Antler Ave. Cross this busy street with care 
ITEMS TO NOTE
Water stations are currently shut off, remember to bring your own supply.
Many accessible restrooms along the way are portable restrooms. While they are somewhat well kept, it would be good to bring your own sanitation wipes just in case. 
Dogs on leash are Welcome! 
There are lots of different users of this trail. The trail is expansive and affords plenty of space, however still be aware of cyclists and skateboarders that move quickly along the trail. 
ADDITIONAL ROUTES ON THE THRIVE GUIDE
Tumalo Creek Trail @ Shevlin Park
Thanks to the work of Access Recreation, based in Portland OR, we've adopted their guidelines to describe our suggested routes, so that you have the information you need to make an informed decision. To learn more about Access Recreation and accessible trails in the Portland area, click HERE! 
Disclaimer: Please practice social distancing while out on trails and paths. Please note, this content was designed for informational purposes and to help you determine if this route is best for you. Please, USE THIS INFORMATION AT YOUR OWN RISK. You are responsible for your own safety and knowing your own fitness levels. Oregon Adaptive Sports is not liable for any injuries as a result of visiting and using these suggested routes.