Accessible Route of the Week: Ray Atkeson Trail @ Sparks Lake
Routes to get you out and exploring!
by Hayley McClure
OAS Staff
It's officially summer in the Cascades and the high lakes are open! Now is the time to check out a few of Central Oregon's favorite high elevation lakes, including the routes from Sparks Lake. From the Sparks Lake Day Use Area, the Ray Atkeson Memorial Trail and lookout offer an accessible portion of trail to view and experience the Alpine Lake and views of the surrounding mountains. Enjoy a ⅔ mile out and back hike through the mountain hemlock and subalpine fir forest to a breathtaking vantage point of South sister and Brokentop. If you have a Kayak or a SUP board, cool down by the water afterward!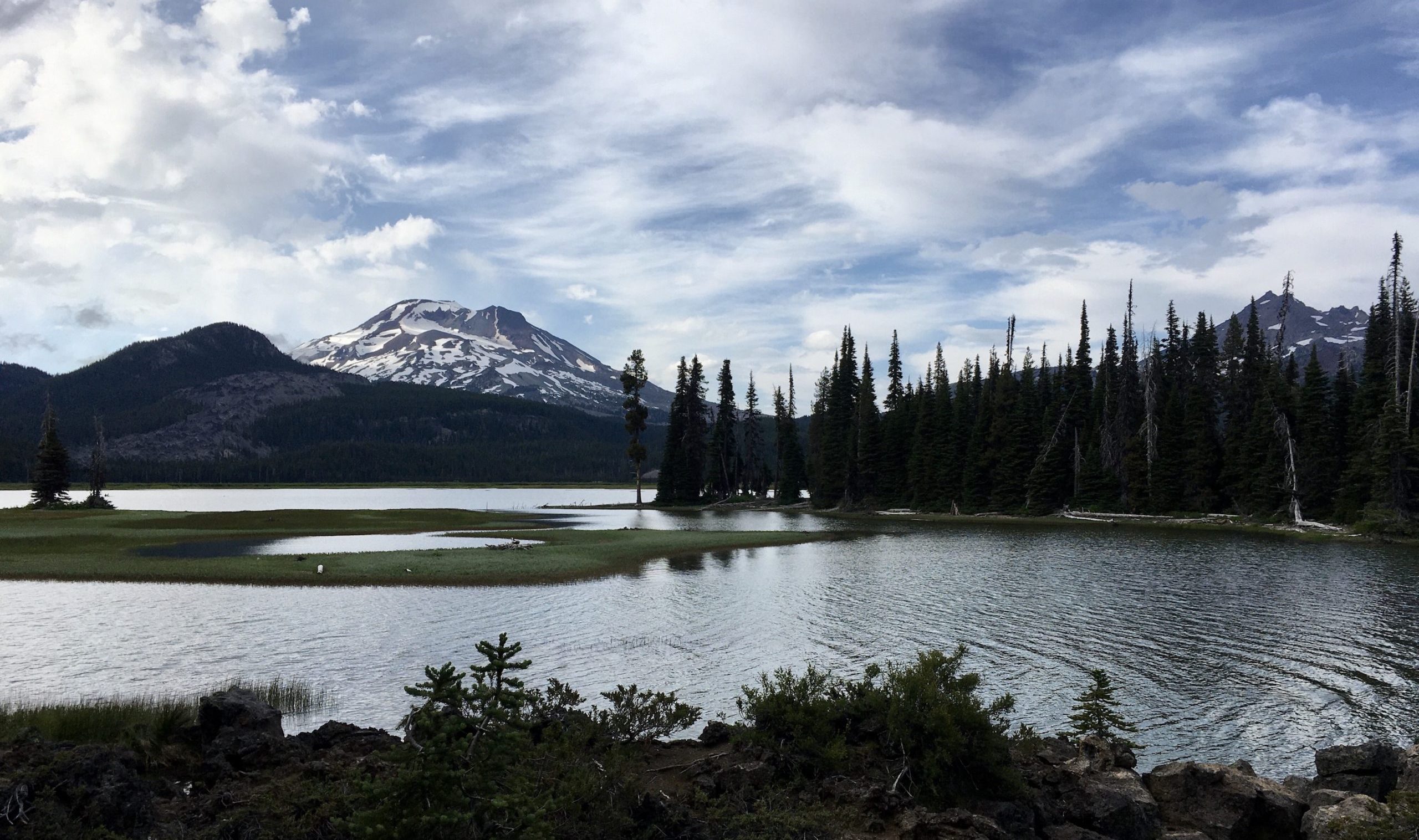 OAS ROUTE OF THE WEEK
Ray Atkeson Memorial Trail at Sparks Lake – to the viewpoint
LOCATION
The Ray Atkeson Memorial Trail shares a parking area with the Sparks Lake Boat ramp. From Bend, head west on the Cascades Lake Highway for 26 miles, then turn left on forest road 400 toward Sparks Lakes Trailheads and Boat ramp. Follow the rough gravel road for approx 1.5 miles. Accessible Parking is available at the first parking lot on your left, next to the restrooms. Low clearance cars will make it okay, but drive slow. 
PARKING
There are 2 ADA parking spaces available at Ray Atkeson Trailhead. A $5 day pass or Northwest Forest Pass is required for parking. Pick up your NW Forest Pass at the Cascades Lakes Welcome Center on your way up. 
AMENITIES @ Ray Atkeson Trailhead
Parking includes 2 ADA parking, 1 van accessible
2 ADA Restrooms: Forest service Pit Toilets
Boat ramp and water access to Sparks Lake
Rustic Benches along paved trail
Scenic lookout.
PUBLIC TRANSPORTATION
There is currently no public transportation to this trailhead. People wishing to visit this trail will need to provide their own transportation.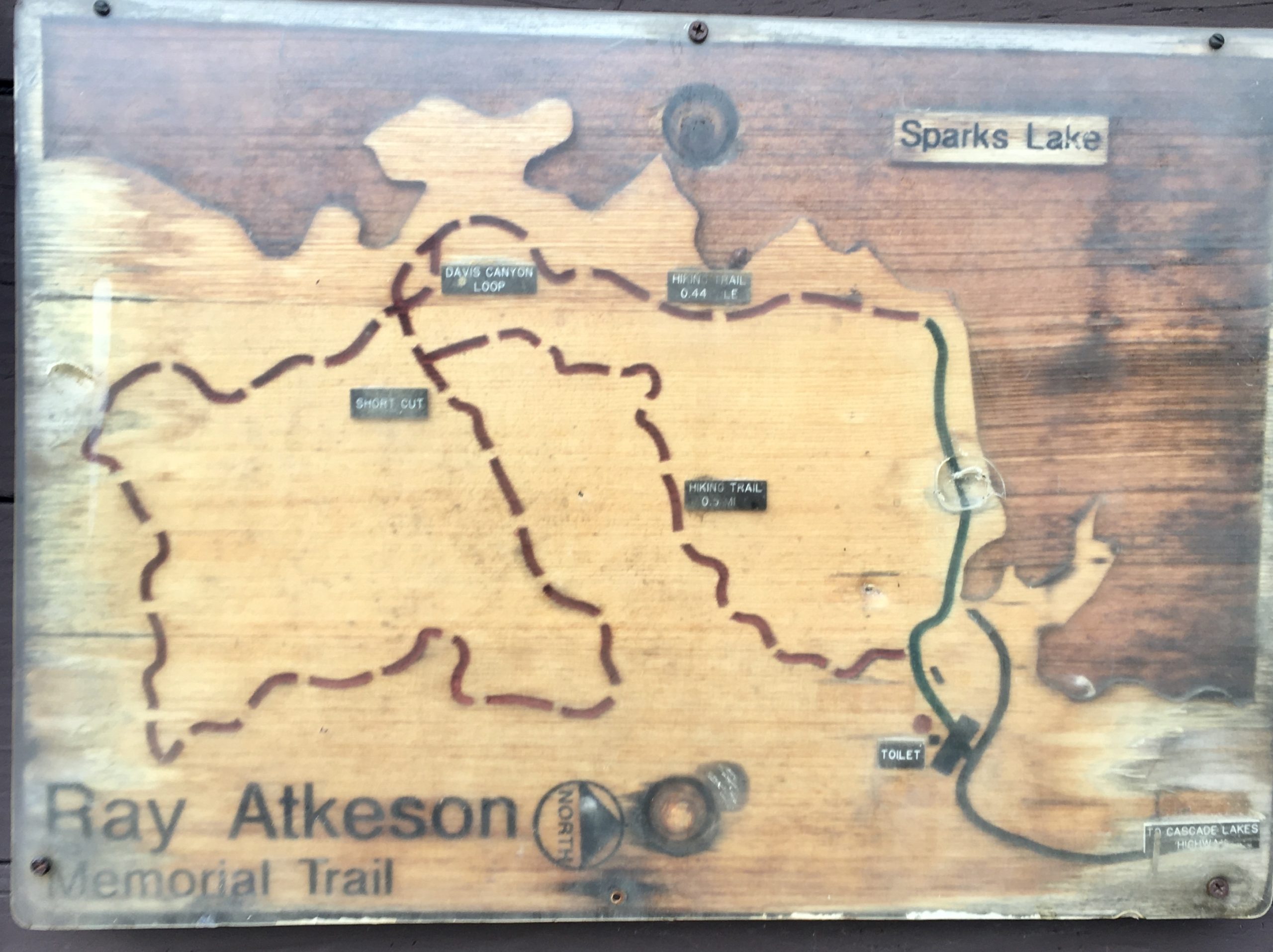 TRAIL MAP
For more information, visit the Deschutes National Forest Site for the Ray Atkeson Trail and the Sparks Lake Day Use Area. 
FACILITY CONTACT INFO
TRAIL DESCRIPTION
The Ray Atkeson Trail is a paved,  ⅓ mile trail out to an awe inspiring mountain lookout of South Sister and Broken Top from the vantage point of Sparks Lake. This high lakes trail meanders through an alpine forest, offering a cooler escape at higher elevation. Along the way, the trail passes through Lava fields and coves along the edge of Sparks Lake, with 180 degree views of a few Cascades peaks. From the parking area and restrooms, the trail begins immediately next to the paved accessible parking spots, and descends into a lava forest away from the boat ramp crowds. Once you've descended into the forest, the slightly narrow path rolls over and through deeper cuts of lava, and ends after a final ascent to the lookout. This is where the pavement ends, and a more difficult 2 mile loop continues. To the lookout and back on the paved trail totals about ⅔ mile. 
TRAIL RATING
Moderate. The trail is paved, but can be narrow with some irregularities in the surface from roots growing under the pavement. Erosion and root growth have caused some damage to the trail, and although navigable require attention. Overall the path rolls between grades of 1-3%, but does have some longer slopes up to 4-5% as the path cuts through lava fields and forest. Persons using a mobility device may require assistance when navigating through these select areas. 
TRAIL ELEMENTS
Surface: Paved Asphalt
Width: Width of trail varies between 3ft and 4.5ft
Grade: Semi flat areas with rolling grades ranging from 1-5%
Cross Slope: Some cross slope ranging from 1-3%
Distance: ⅓ mile to scenic lookout, ⅔ mile round trip 
Obstacles: Narrow sections where erosion has occurred. Uneven surfaces from root growth. 
ITEMS TO NOTE
No running water, please bring your own supply.
Restrooms are experiencing a lot of traffic with minimal service due to COVID, pack your own sanitation supplies.
Lots of mosquitos this time of year! Remember to pack repellent!
Trails are for Hiking only.
July is the best time of year to visit Sparks Lake before the waterline goes down later in the summer, this also makes it one of the more visited lakes in the summer. Be prepared for crowds!
ADDITIONAL ROUTES ON THE THRIVE GUIDE
Tumalo Creek Trail @ Shevlin Park
Ray Atkeson Trail @ Sparks Lake
Thanks to the work of Access Recreation, based in Portland OR, we've adopted their guidelines to describe our suggested routes, so that you have the information you need to make an informed decision. To learn more about Access Recreation and accessible trails in the Portland area, click HERE! 
Disclaimer: Please practice social distancing while out on trails and paths. Please note, this content was designed for informational purposes and to help you determine if this route is best for you. Please, USE THIS INFORMATION AT YOUR OWN RISK. You are responsible for your own safety and knowing your own fitness levels. Oregon Adaptive Sports is not liable for any injuries as a result of visiting and using these suggested routes.