Accessible Route of the Week: Rimrock Trail
New routes highlighted weekly.
by Hayley McClure
OAS Staff
This out and back paved trail is a great cycling option for those looking for a little more mileage, but also serves as a great morning or afternoon stroll through the Deschutes National Forest. Just outside of town, the Rimrock Trail is a gateway for cyclists and recreationalist to access trails and forest lands along the Cascade Lakes highway, and offers a connected greenway to the Cascade Lakes Welcome Center and Ranger Station. Whether you are seeking a cycling challenge or a leisurely stroll, this trail has a lot to offer for all fitness levels!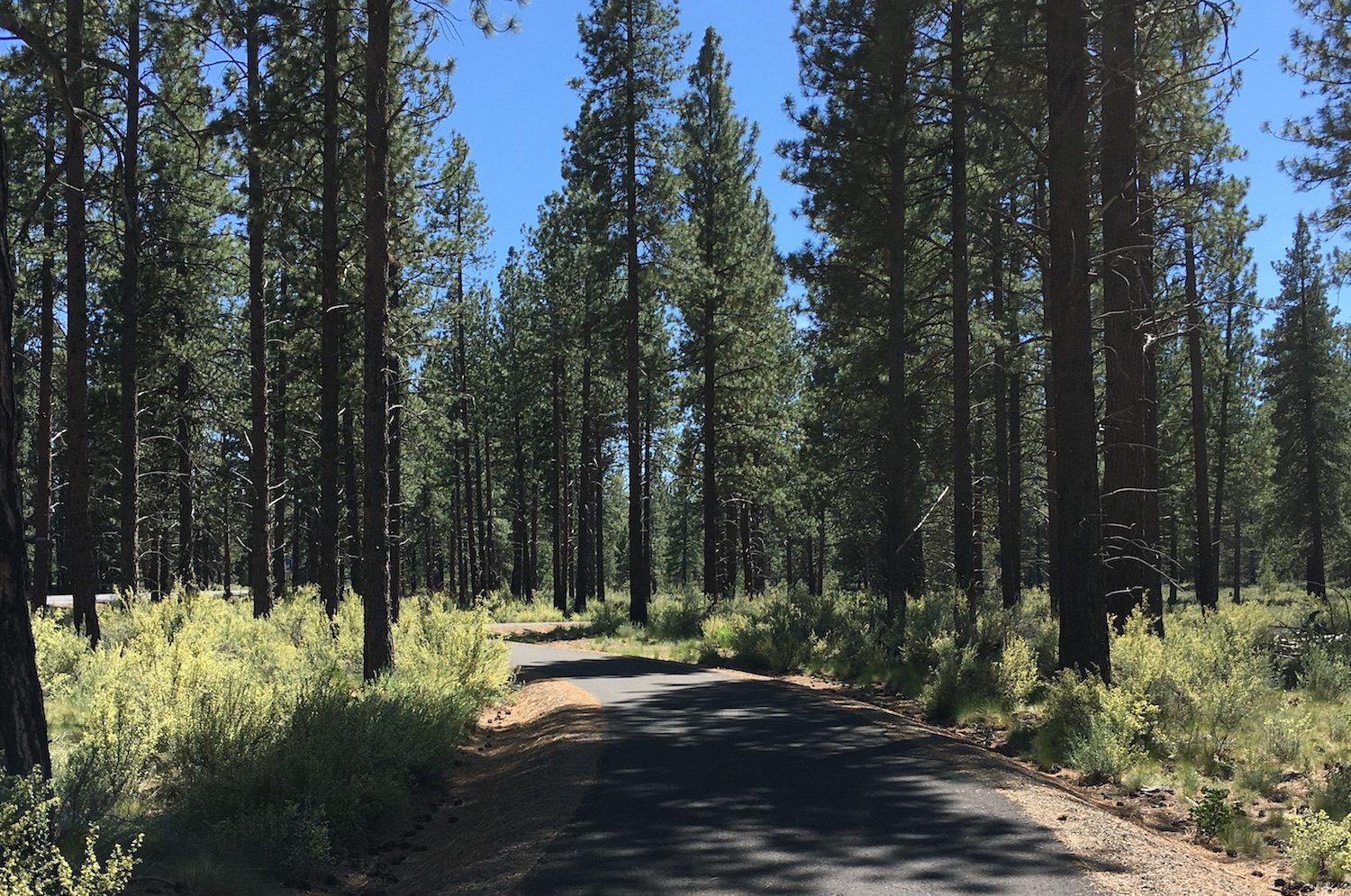 OAS ROUTE OF THE WEEK
Rimrock Trail to the Cascade Lakes Welcome Station (Ranger Station)
LOCATION
The Rimrock Trailhead is located just south of Bend, OR directly off the Cascade Lakes Highway. While heading south on Century Drive as if you were going to Mt Bachelor, continue approximately one mile past Tetherow, and turn left following the brown Forest Service sign for Rimrock Trailhead and parking area (formerly known as GoodDog! park). The Rimrock Trailhead is located at 18775 Cascade Lakes National Scenic Byway, Bend, OR 97702.
Note: if you try to google Rimrock Trailhead, it will come up as GoodDog! They are the same area. It seems that the names have not been updated since the development of the trail in 2017. 
PARKING
At the trailhead turn off, a short paved road transitions into a larger gravel parking area. Drive slowly as you enter the gravel parking area, the transition is a little bumpy and has not been maintained recently. The rest of the parking area is graded with coarse, packed gravel. There are 2 ADA, van accessible parking spaces located in the first parking area to the left. These spaces are connected by a coarse gravel path, about 20 feet from the paved trailhead, and about 50 ft to the trailhead restrooms.
AMENITIES @ Rimrock Trailhead
2 ADA, van accessible parking spaces, approx. 20ft from trail head
2 ADA Restrooms: Year round, pit toilet. Maintenance and cleaning temporarily less than usual due to reduced COVID-19 Forest Service schedules
Picnic area across from restrooms
No water available, bring your own supply
PUBLIC TRANSPORTATION
There is currently no public transportation to this trailhead, as it is just outside Bend city limits. People wishing to visit this trail will need to provide their own transportation.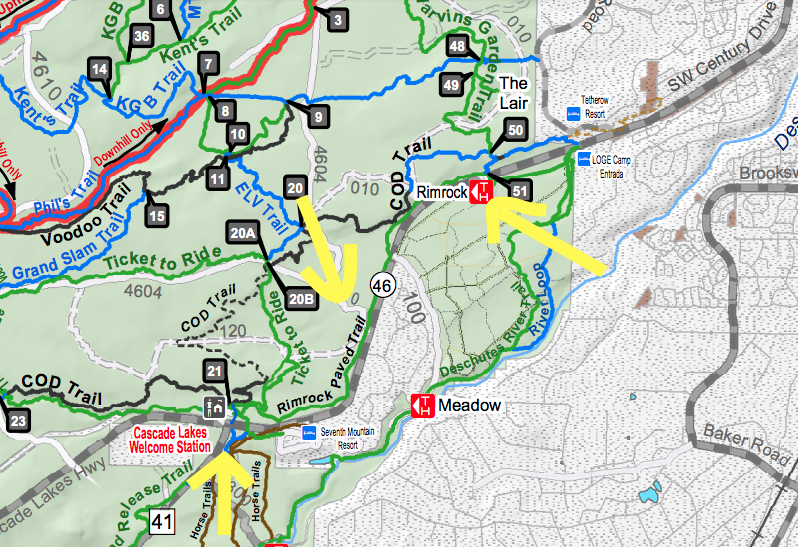 TRAIL MAP
The Rimrock Trail is managed by the US Forest Service and is located within the Deschutes National Forest. You can find this section of paved trail on the West Bend Trail Map. Here is the PDF version from the USFS Website.
The paved route runs adjacent to the Cascade Lakes Scenic byway, as seen in this close up of the map and identified by the yellow arrows in the map photo.
FACILITY CONTACT INFO
Deschutes National Forest Supervisor's Office – 541-383-5300
TRAIL DESCRIPTION
A large gravel parking area offers rustic amenities including restrooms, a small picnic area, and a map of the area with some information about the natural surroundings. This parking area offers access to both the paved Rimrock Trail and the GoodDog! off leash trail system where many locals bring their pets to roam off leash. The Rimrock Trail begins from the NE corner of the parking area and veers left through an underpass of the Cascade Lakes Highway to mark the start of the trail.
This sweeping, wide, paved path is a common corridor for cyclists and hikers entering the Deschutes National forest, and runs parallel to the Cascade Lakes Highway, gradually climbing through a ponderosa pine forest. Although it is close to the main scenic byway, the path is off set just enough that the tall pines buffer the noise of traffic and offer a great opportunity to get some exercise in a serene, forested landscape.
Upon entry, a steep slope of about 6.5% from the underpass quickly flattens out to a gradual and rolling uphill climb. The path is a consistent, comfortable climb for the first couple miles, with some flowy, sweeping turns as it ascends 150ft over the course of 2.8 miles. At approximately mile 2.0, the grade becomes a little steeper with longer sustained climbs at about a 4% grade until the paved trail reaches the ranger station. The ranger station marks the halfway turnaround point and a great place to take a rest before enjoying the coast back down. When open, the ranger station has running water, rustic ADA restrooms, ADA parking, and information about the trails, lakes, and wildlife within the Deschutes National Forest.
TRAIL RATING – MODERATE
The Rimrock Trail is a fully paved path beginning from the Rimrock Trailhead to the Cascades Lakes Welcome Ranger Station. The wide asphalt path climbs slowly, with gradual sustained grades ranging from 1% – 7%. The asphalt itself is smooth and uninterrupted with cross slopes at 1% or less. There are no physical barriers, however cyclists using this as a connection trail tend to move fast. It is important to be aware of your surroundings and follow the flow of traffic by staying to the right side. Edges of the paved trail are distinguished by a change in surface material. Coarse gravel runs along the pavement from the beginning to the end of the trail. The trail itself is slightly raised, with up to 3 foot drop offs on either side of the pavement. There are no designated rest areas or benches along the path. Users can make this out and back trail as long, or short as they'd like. People using a mobility device may require assistance through the longer sustained slopes. 
TRAIL ELEMENTS
Surface: Paved Asphalt
Width: 10ft wide from trailhead to Cascade Lakes Welcome Center
Grade: Sustained slopes ranging between 1% and 7% grade
Cross Slope: even cross slopes with 1%  grade or less.
Distances: 2.8 miles to Welcome Center, 5.6 miles round trip, out and back
Obstacles: Moderate cycling traffic, no developed resting areas
Dogs on leash welcome!
ITEMS TO NOTE
This is a great, protected option for cyclists looking for a longer ride near town.
On warmer days, plan to visit in the morning or late afternoon. Although forested, the asphalt path feels exposed under midday sun.
Water is not available at the trailhead. Bring your own supply and stay hydrated!
This trail is a highly used corridor for cyclists. Please be aware of your surroundings and follow the flow of traffic. 
While the Rimrock Trailhead remains open, the facilities are not frequently maintained due to the USFS's COVID – 19 minimized cleaning schedule. It is best to come prepared with your own sanitation and water needs at this time. 
The Cascade Lakes Welcome Center and Ranger Station is currently closed and pending reopening due to COVID – 19. Facilities, including restrooms and water are currently closed and shut off. Please bring enough supplies for your entire trip, and use restrooms at the Rimrock Trailhead. For more information and updates, contact Deschutes National Forest Supervisor's Office @ 541-383-5300
ADDITIONAL ROUTES ON THE THRIVE GUIDE
Tumalo Creek Trail @ Shevlin Park
Thanks to the work of Access Recreation, based in Portland OR, we've adopted their guidelines to describe our suggested routes, so that you have the information you need to make an informed decision. To learn more about Access Recreation and accessible trails in the Portland area, click HERE! 
Disclaimer: Please practice social distancing while out on trails and paths. Please note, this content was designed for informational purposes and to help you determine if this route is best for you. Please, USE THIS INFORMATION AT YOUR OWN RISK. You are responsible for your own safety and knowing your own fitness levels. Oregon Adaptive Sports is not liable for any injuries as a result of visiting and using these suggested routes.